Isle of Man racer Gavin Hunt signs with CN Racing
Last updated on .From the section Motorsport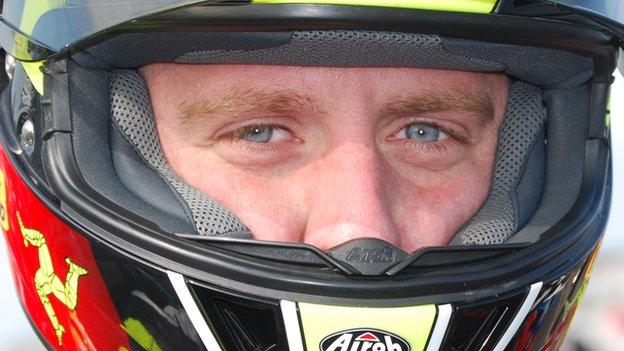 Isle of Man racer Gavin Hunt has says he is "delighted" after signing for the Hebden Bridge-based CN Racing team.
Hunt will join Danny Buchan and Josh Day aboard the team's Ten Kate-prepared 1000cc Honda Fireblades in the Metzeler National Superstock 1000 Championship.
"This is a fantastic opportunity for me to be involved in a professional team and I'm delighted to have been given the chance," said the 25-year-old.
Hunt will also contest the North West 200 in Northern Ireland in May.
Having fully recovered from a serious leg injury sustained in 2010, the Manx rider says he is fitter than ever and up for the challenge.
"I have some fast team-mates and it's going to be tough, but now I'm fully fit and ready so hopefully we can start scoring some serious points from the off," continued Hunt.
"It's a big chance for me and I intend to make the most of it."
Hunt joins last year's runner-up Danny Buchan and former Metzeler National Superstock 600 Champion Josh Day in a strong line-up.
Crew Chief Dwayne McCracken added: "We're delighted to have Gavin on board for this season as we've been impressed with what he's done with his own team in the past.
"He is coming to a team with the right bikes, the right people and the right infrastructure and I'm sure he'll do well. We are all very excited going into Brands Hatch."
The first round will be held at Brands Hatch from the 6-9 April.