BBC Sport NI gears up for NW200 in 2012
Last updated on .From the section Motorsport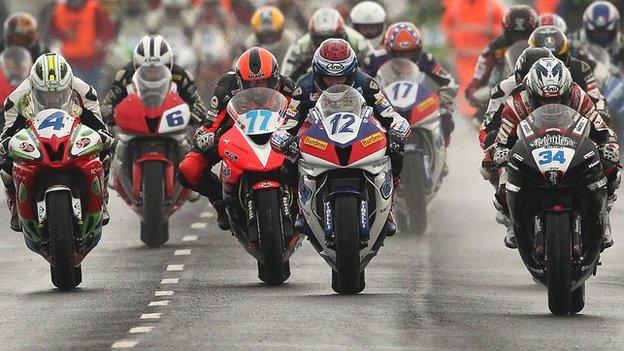 One of the highlights of the local sporting calendar is fast approaching, and BBC Sport NI is once again ready to provide bike fans with comprehensive coverage of this year's North West 200 International road races.
The event, which is now in its 83rd year, attracts bikers and fans of road racing from all corners of the world to Northern Ireland's beautiful north coast.
Tens of thousands of fans will line the nine mile circuit on race day to see the best riders in the world pit their wits against each other at speeds approaching 200mph.
With changes to the format of race week, there will be some changes to BBC Sport NI's coverage this year across TV, radio and online.
Shane Glynn, Editor BBC Sport NI said: "The team at BBC Sport NI are all very much looking forward to what will be our sixth consecutive North West 200 as primary broadcasters.
"Last year Mervyn Whyte and his colleagues had no luck whatsoever with the weather and other factors they just couldn't have legislated for - fingers crossed for a fuller day's racing this year on Saturday May 19th.
"The additional two races on the Thursday night, and the two daytime practice sessions on Tuesday and Thursday, will present us and our colleagues at Greenlight TV with new challenges.
"We'll be showing the two new races live via our website, and you can also catch highlights of them on an extended Friday night preview programme on BBC One NI which will come live from the paddock.
"These highlights will also feature in our two one hour highlights programmes that will be shown on Sunday, May 20 and Monday, May 21."
Among the newcomers at this year's event will be regular British Supersport competitor Dan Cooper.