Michael Dunlop to ride for McAdoo Racing in 2012
Last updated on .From the section Motorsport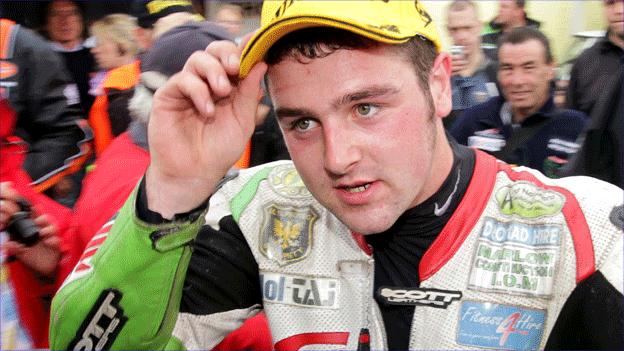 Michael Dunlop has agreed a deal to ride a variety of machines in the new colours of McAdoo Racing in 2012.
Dunlop will compete for the Cookstown-based team at the North West 200, Isle of Man TT and Ulster Grand Prix, plus selected other national road races.
Dunlop will ride a Honda Superbike, with support from Hunts, and a 600cc Suzuki, with help from Marlow Racing.
McAdoo will provide Superstock and Supertwin Kawasakis, plus reserve Superbike and Supersport Kawasakis.
As the main cash sponsor of the team, McAdoo Racing will own four of the six machines and all the bikes will run in the team's new colours in celebration of their 30th anniversary in motorcycle racing.
The team will also provide two transporters for the 23-year-old Ballymoney rider.
Because of their religious convictions, McAdoo Racing do not permit their bikes to be raced on Sundays, so their name will be removed from the Honda Superbike and Suzuki Supersport machines, which Dunlop will use for events held on Sundays.
"In our opinion, Michael is the number one road racer around, and has the potential to dominate road racing for many years to come.
"He has already won two TTs, plus UGP and North West 200 races, and we hope 2012 will bring much more success for Michael and McAdoo Racing," said team boss Jason McAdoo.
It was revealed recently that Dunlop had parted company with his long-time sponsors Street Sweep, who had helped him to his previous TT successes.
"Things have come together quite late, but I'm happy with the bikes I've got, and the TT is my priority," said Dunlop.
"I'm only interested in winning and I'l be going all out to do that again."