Chaz Davies faces a race against time after arm injury
Last updated on .From the section Motorsport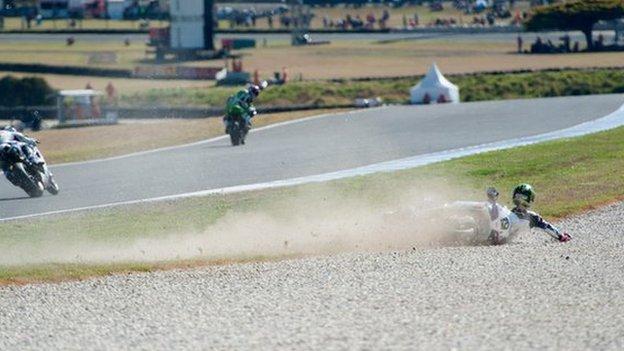 Herefordshire motorcycling star Chaz Davies says his chances of riding in the World Superbikes Championship at Imola are 'touch and go'.
"It's just a question of rehab and getting healthy again for Imola but I think everything is ok," he said.
"It's not just the bones, it's the ligaments as well and it is a case of getting everything moving again."
Davies sustained the injury when he crashed out on his Aprilia ParkinGo during second qualifying at Phillip Island in Australia and underwent surgery to have a plate inserted in his arm.
He was frustrated by the manner of the accident as he felt he could have got away with it.
"It wasn't a big crash but was probably more to do with the fact I tried to hang on to it," added Davies.
"I thought I had it back at one stage - I was thinking: 'I have got this', but then it bit again and chucked me off on the inside.
"I was a bit too committed on that one and I will probably just jump of it next time."
Davies, 25, says this is the most serious injury he has sustained during his 15-year career.
He admits this lack of previous injuries means he is not too sure how he is progressing.
"I don't know how well I recover from this kind of injury and I don't know anything about wrist injuries," he said.
"The good thing is that I am not in any pain, in fact I have had worse pain when I have sprained my wrist.
"As long as I follow my programme of rehab then I will have a chance [of racing at Imola].
"I might not be 100 percent, but the Italian doctors have got some pretty good drugs in their clinic, so we might have to get into that if it is needed."
The next rounds of the World Superbike Championship will take place at Imola on Sunday, 1 April.