Isle of Man TT: Costello excited by TT challenge
Last updated on .From the section Motorsport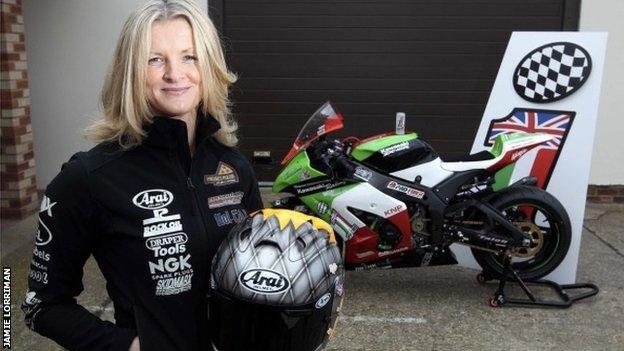 Northamptonshire racer Maria Costello has announced she will race for the Pr1mo Bournemouth team at this year's Isle of Man TT races.
Costello will be riding a Pr1mo Bournemouth-prepared and backed Kawasaki ZX10R in the Superstock, Superbike and Senior races.
"The TT is going to be part of a great year and I'm feeling really excited about this year's event," she said.
She will also race her own SuperTwin machine in the Lightweight class.
"We've just got back from testing in Spain and our times were improving with each session," added Costello.
"I can't wait race it on the mountain course. She is the love of my life at the moment.
"It has been brilliant to pick up my spanners again and build the bike from scratch and it will be amazing to race it on the Isle of Man."
Costello made her mountain course debut at the Manx Grand Prix in 1996 and was the first woman to finish on the podium in a race around the TT course.
In 2004, she became the fastest female solo rider in TT history recording an average speed of over 114mph around the mountain course. Her record was only broken in 2009 by Ellesmere Port's Jenny Tinmouth.
She added: "Obviously I would love to hold the record again but we will see how it goes in June."