Poole Pirates team manager Neil Middleditch wants British presence
Last updated on .From the section Speedway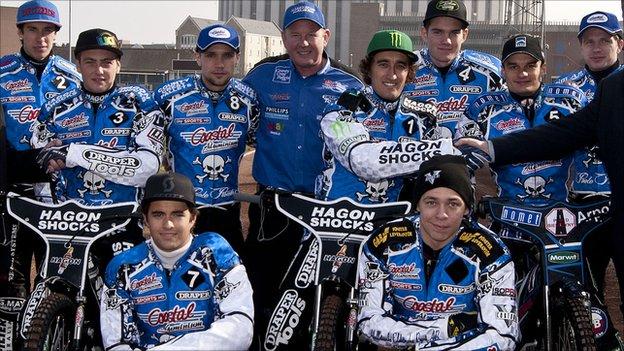 Poole Pirates team manager Neil Middleditch has said he would like to see more British speedway riders breaking through in the sport.
Poole are the defending Elite League and Knockout Cup champions.
"Unfortunately we have fallen behind in producing British riders in this country," Middleditch told BBC Solent.
The Pirates will head into the new season with Chris Holder, Darcy Ward, Adrian Miedzinski, Dennis Andersson, Sam Masters, Ludvig Lindgre, Ricky Kling, Todd Kurtz and Mateusz Szczepaniak as their line-up.
But Middleditch added he hoped the situation would change soon.
"As we have done with a few sports, we don't have a good youth policy in this country," Middleditch added.
"But there are a few coming into place now. Ex-Pirate Gary Havelock ran a school of excellence up north and it was very well received and hopefully it can carry on but at this moment in time England can't compete."
The Dorset side begin the defence of their title with a double header against Coventry on 6 April.
They will start their season with a clash at Wolverhampton in the Elite Shield on 19 March and will be led by Australian Holder.
Holder was one of the stars of the Pirates' double-winning season last year and the 24-year-old is delighted to be succeeding fellow countryman Davy Watt as the Pirates skipper.
"It's a big honour," Holder said.
"Poole have had a lot of really good past captains and I hope I can be a successful one.
"I'll do pretty much all the same sort of stuff we did last year but it's always cool to be recognised as captain of the club."
Middleditch is excited about his side's prospects this season and believes the Australian pair of Holder and 19-year-old Ward may well be the best he has ever come across.
"For the age they are, the experience they show on the track is just phenomenal," said Middleditch.
"They are a delight to watch and I think they are the best I have seen."
Promoter Matt Ford echoed Middleditch sentiments and said keeping the duo together was his most important task.
"I'm very pleased with our line up but obviously the most important thing was keeping Darcy and Chris together," Ford said.
"We've been fortunate enough to do that and the rest of the team around them are very good also and I see the bookmakers have made us favourites for the new season.
"Chris and Darcy are incredibly popular in the town and are an institution in Poole now. They both live locally and are lovely to work with and are incredible riders."
Meanwhile, Ford says he is still hopeful of staging a European fixture next season with Swedish side Piraterna.
It was announced last month that speedway's proposed European Cup had been postponed until 2013 because of a dispute over television rights.
But Ford later revealed he was hopeful of arranging a one-off fixture with Piraterna and that possibility has now moved closer.
"I've spoken to Piraterna, and there is a good chance of facing them in a home and away friendly, " he added.
"That could happen in May or June, we just need to dot the i's and cross the t's."