David Knight and Danny McCanney make strong EWC start
Last updated on .From the section Motorsport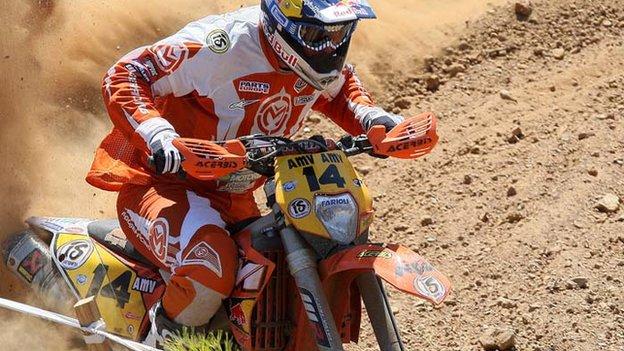 David Knight made a strong start in his pursuit of a fourth Enduro 3 World Championship in Chile over the weekend.
The Isle of Man rider battled the dusty conditions in Talca to record fourth and second place finishes to sit third in the overall standings.
"The dust made it almost impossible to see at times but it's good to see the podium again," he said.
The 33-year-old's KTM team-mate Christophe Nambotin claimed victory on both days to lead the championship.
Knight was forced to start the first day's competition near the back of the field as a result of last season's injury-ruined campaign.
He continued: "Day one was hard work. My start position caused most of my problems, as I had to start each of the tests deep in the pack.
"Day two proved to be a lot better. I managed to close the gap to Christophe and beat him in some of the tests to finish in second. I was pleased with that considering he had a clear track.
"My speed was good and I felt that I was beginning to ride like I know I should. With a better starting position next week in Argentina I hope I can continue to improve my results."
Meanwhile, the Isle of Man's Danny McCanney sits second in the Juniors after second and third place finishes, with Alex Rockwell 12th after the opening round.
Jamie McCanney was leading the Youth Cup when he crashed out, suffering a broken wrist.
The second round of the EWC will be held in Argentina on 31 March.