Michael Rutter will race at this year's North West 200
Last updated on .From the section Motorsport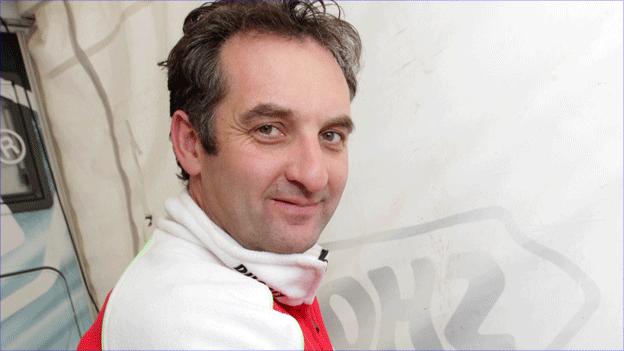 Michael Rutter will compete in this year's North West 200.
There had been doubts over Rutter's participation because of sponsorship issues but these difficulties have now been overcome.
The 12-times North West winner will ride for the MSS Kawasaki team in the superbike races and superstock event.
"I'm looking forward to it because I've won it a few times before and going down those straights at 200 miles an hour, you can't beat it," said Rutter.
He added: "It's just a brilliant atmosphere. All I can hope for is some real dry weather, it's been a bit of hard luck the last few years, and I think it's time for a change and some nice glorious sun."
The English rider explained how increased costs this year put his participation in jeopardy.
"We are building a bike at the moment - the rules have changed so it's a standard engine and electronics," said Rutter.
"For the Northwest and TT you can have more powerful bikes, so we need to build another bike on top, and that's where the extra costs come in."
"You've got to have the best of kit to try and be up in that top three.
"And if I couldn't do that, I didn't want to do it. I wanted to do it right or not at all."
Rutter will race at the North West alongside Malaysian superbike star Steve Martin.
Martin, 39, is originally from the North East of England but he is now based in Malaysia where he competes in the local superbike series.
"I've heard all about the NW200 and it's fantastic to get the chance to race the 8.9 mile course," said Martin.
North West 200 event director Mervyn Whyte said he was delighted at the news of Rutter's participation.
"With 12 wins at the NW200 under his belt Michael has been a true star of the circuit and would have been sorely missed by fans," added the North West 200 official.
After the practice sessions early in the week, racing will take place at the North coast venue on Thursday 17 May and Saturday 19 May.