Andy Priaulx prepares for first season in DTM racing
Last updated on .From the section Motorsport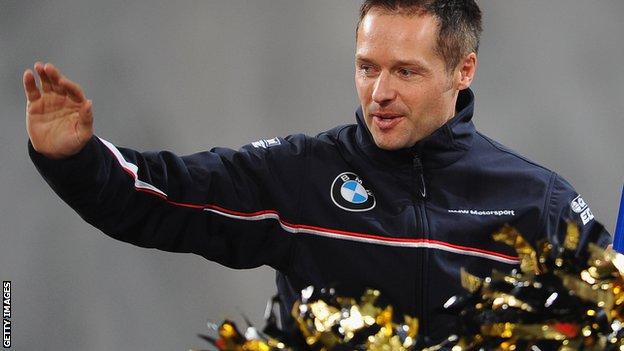 Guernsey's three-time World Touring Car champion Andy Priaulx says he does not expect to be fighting for the title in his first season in DTM racing.
Priaulx will drive for BMW in the manufacturer's first season in the German touring car event.
"I don't expect us to be fighting for wins at the beginning of the year," Priaulx told BBC Guernsey.
"Audi and Mercedes have been in DTM for 10 years and it is as competitive as Formula One," he added.
Priaulx signed up for BMW's DTM project in July and has spent much of the time since then testing the car to get it ready for the first race at Hockenheim on 29 April.
"It's a very big challenge for me and BMW and a big step in my career so I'm very excited and very motivated about it.
"It's pretty much Formula One technology so we've had to spend a lot of time in the wind tunnel at BMW, they have done a tremendous job to take it from zero to where we are now.
"We've got a lot of Formula One guys on board from the BMW Formula One project.
"All the technology that went into the Formula One car and engine is in this DTM car so there's a lot of experience there and I'm extremely optimistic that in the end we will get our race wins, but it won't happen straight away."
DTM, Deutsche Tourenwagen Masters, regularly attracts crowds of more than 100,000 to its races with the likes of Ralf Schumacher and David Coulthard racing in it.
Force India driver Paul di Resta made the leap to Formula One in 2011 after winning the 2010 DTM championship.
As well as six races in Germany there will also be meetings at Brands Hatch, Valencia, Zandvoort in the Netherlands and the A1 Ring in Austria.
But despite its undoubted quality, the series is yet to catch the imagination of British sports fans.
"It has got European appeal and it's extremely well known in Europe," Priaulx says.
"But it's not very well known in the UK which is something I hope I can change."
And while Priaulx reckons a title win this season is out of the question, he says he is also aiming to add a DTM crown to his three World Touring Car titles.
"That's got to be my goal, I can visualise it every day and that's what I've got to aim at."