Isle of Man TT: Young Irish riders prepare for debut
By Richard Petrie
BBC Sport NI
Last updated on .From the section Motorsport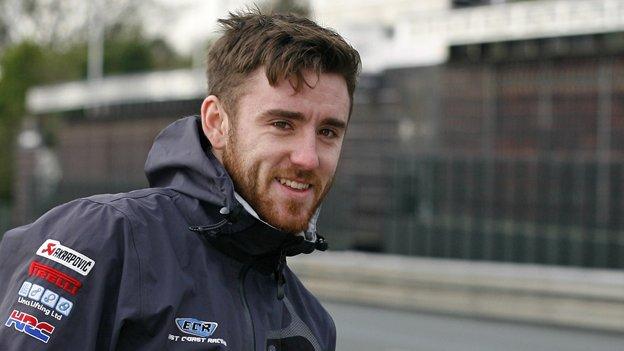 The early career paths of Irish motorcycling stars Jamie Hamilton and Lee Johnston would not have marked them out as potential Isle of Man TT riders of the future.
Both racers made their name by winning British short circuit championship titles at a young age.
Fermanagh man Johnston was crowned British Junior 600cc Superstock champion in 2008, while Hamilton, from Ballyclare, collected the same prize 12 months later.
This year however the pair have turned their attention to conquering the most famous road circuit in the world.
Following his championship success Johnston went on to be a regular top-10 finisher in the British Supersport championship over the next three seasons, but made his mark on the road racing scene by finishing ninth in the 600cc race at the 2011 North West 200.
A second-place finish in the first Superstock race at this year's North West provided further evidence of his road racing credentials.
"One look at the TT course makes tracks in England look very safe all of a sudden," said Johnston, who will compete in the colours of Millsport Racing.
"On the British short circuits people worry about the odd barrier here or there, but that is the least of your worries at the TT.
"Having said that, the amount of help you get in learning the Mountain Course is a big help and makes it a lot safer.
"Road racing is so friendly and it's just a lovely atmosphere to compete in - that's a big part of the attraction.
"We have such a sporting heritage of road racing in Ireland and as well and I'm doing the Ulster Grand Prix for the first time this year, in addition to the North West and TT.
"All the events are really high profile, whereas if you want to compete on tracks to a high level, you really have to go to England," explained the 28-year-old.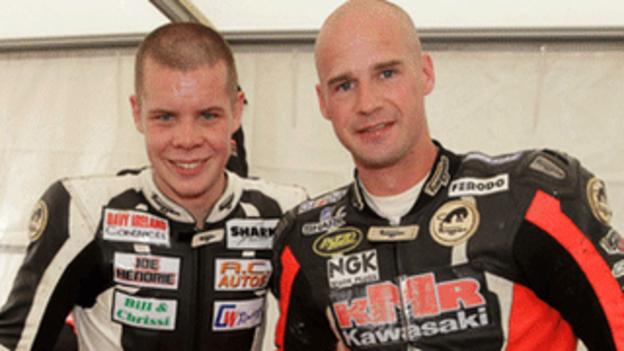 At 21 years of age, Hamilton will be the youngest rider on the grid at this year's TT.
Like Johnston, he spent a year at British Supersport level, before trying his luck in the Supertwins class on the roads in 2011.
Hamilton will ride for the KMR Kawasaki outfit run by former TT winner and current top competitor Ryan Farquhar.
"I went out in practice at the North West 200 last year and that really gave me the road racing bug," explained Hamilton.
"I thought long and hard about the career direction I wanted to take and decided that if I did commit to road racing, I wanted the best possible people around me.
"Ryan was the first person who sprang to mind so I gave him a call and it all went from there.
"I had a few good results last year and have managed to carry that on this season."
Farquhar, a three-times TT winner, says he has "no doubt" that Hamilton has the talent to challenge for road racing honours.
"Jamie has a good future ahead of him, but I just hope he takes his time and learns the tracks, which is particuarly important at the TT.
"You have to serve your apprenticeship and it's not the sort of thing you learn in one year.
"He finished fourth on his debut at the Ulster Grand Prix last year, which was excellent, and he has also won a few short circuit races in the Supertwins class this year. The TT will be something completely different though."
Both riders compete in the Superbike, Superstock and Senior races, with Hamilton also taking in the new Supertwins class.