Luciano Bacheta hails 'career-best' weekend
Last updated on .From the section Motorsport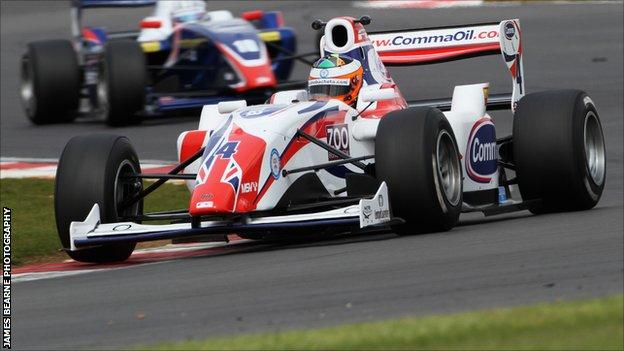 Luciano Bacheta said his double victory on the opening weekend of the Formula Two season is the highlight of his career to date.
Bacheta, from Brentwood, won both races at Silverstone to take an early lead in the 2012 Drivers Championship.
The 21-year-old told BBC Essex: "I haven't won at Silverstone since 2007 and I haven't had a double victory since 2006.
"So this was definitely the best weekend of my career."
Bacheta won each race in a similar fashion, taking the lead with overtaking manoeuvres in the latter stages of each race.
He has opened up a 20-point lead in the early standings.
He added: "At the beginning of both races I dropped a little bit from the leaders, so after the first few laps you would have never thought that I would come through to win."
"But we were really consistent and I managed to look after my tyres really well."
Bacheta said the results confirms he can contend for the 2012 F2 championship.
"I'm a contender for the Championship, but there are seven drivers on the grid all are within a shout of winning races.
"It's a long year, so while we've had a good weekend I've got to keep my feet on the ground."