David Knight and Danny McCanney impress at BEC in Thirsk
Last updated on .From the section Motorsport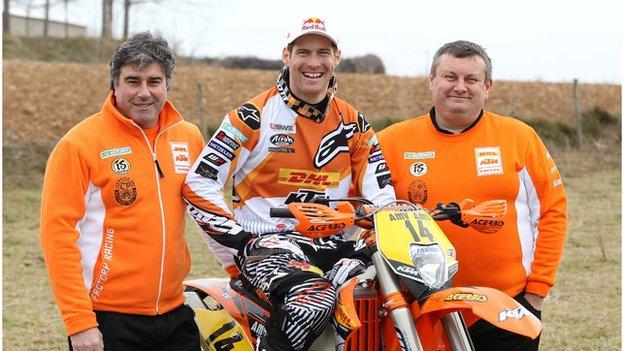 David Knight continued his domination of the British Enduro Championships at the weekend with a double victory at the Helmsley event in Thirsk.
Knight dominated both days in North Yorkshire to extend his championship lead over Tom Sagar.
The 33-year-old said: "After two rounds of the championship I've had four day wins, so I'm pleased about that.'
Manx rider Danny McCanney enjoyed another solid performance to record second and third place finishes.
The 21-year-old is now third in the overall standings and leads the U23 championship.
He said: "I am very happy with my results. David is a tough man to beat any day and this was a good course for Tom (Sagar) as well, so I was really pleased to beat him on day one."
Both riders will next compete in Spain at round three of the Enduro World Championships.