Chaz Davies under team orders to take his time this season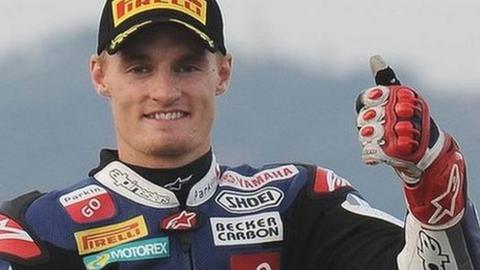 Welsh motorcycling star Chaz Davies knows he must bide his time this year before trying to compete at the front of the grid in World Superbikes.
And the 25-year-old says he is under orders not to rush things this season.
Davies knows patience can be a virtue at Donington Park in this weekend's British round of the Championship.
"I'd love to be winning from the first race but that's not going to happen at the minute," the man from Presteigne told BBC Hereford and Worcester.
"My team are more or less of the opposite view and they are really genuine about it.
"I have been told by my team manager that if I start finishing in the top 10 he'll throw away my contract and tell me to pack my bags."
Davies has had an eventful start to his debut season in World Superbikes after winning the World Supersport Championship last season.
A crash in qualifying at the opening round of the Championship at Philip Island in Australia resulted in a broken arm and wrist - and a consequent race against time to be fit for Imola a month later.
While Davies did ride in Italy, he admits he was not fully fit and was then the innocent victim of a crash in the opening race, before making an error in the second that cost him a possible top-10 finish.
"I ran off track," he said. "I lost at least 10 seconds and then came back on and ended up with two points.
"We calculated that if I hadn't lost that time it would have put me up to sixth or seventh but it's early days and it's all about experience at the moment.
"It doesn't matter because even by finishing 14th I learned a lot in those 20 laps which I hadn't learned since I first jumped on the bike so there are always positives to take from it."
There were mechanical problems in Assen, while heavy rain led to the opening round of the Monza weekend being washed out before Davies then picked up a further two points in the second race.
A lack of pre-season testing has also hampered his chances, but he feels that this is just the way of the modern-day world in which teams have to work within ever-tighter budgets.
"Testing is very expensive," he added. "For one day's testing, for one team to go and do that by themselves, you are looking at 25-30 grand.
"There are not many teams that can afford to do that unless they are a factory-backed team with good sponsorship.
"It's going to be difficult to get some actual testing seat time on the bike as a lot of it is going to have to be done during race weekends.
"Hopefully we will get one session in a few races time in the lead in to the Aragon round of the Championship."