Postponements will cost Swindon Robins - Rossiter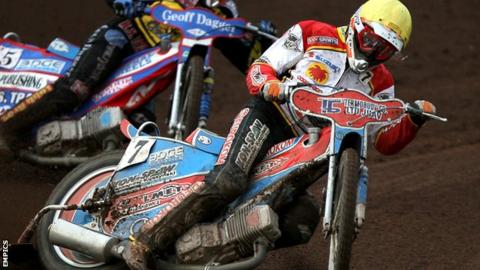 Swindon Robins manager Alun Rossiter says constant postponements will have financial implications on the club.
The Elite League outfit have had their last eight meetings called off because of bad weather and are not scheduled to return to the track until next Friday.
"I've never known it like this - it's shocking," Rossiter told BBC Wiltshire.
"Financially it's not good. People only have so much money to spend and we'll have to end up doing two in a week so it's not good at all."
Swindon attempted to return to the action on Bank Holiday Monday but their clash with Poole was stopped after eight races because of heavy rain.
The Robins won all four of their opening fixtures before the bad weather arrived and Rossiter is hoping to disruption does not affect his team.
"Some of the lads are riding abroad and a couple are racing with the Premier League clubs," he added.
"The only one who isn't getting rides is Simon Stead, but he showed on Monday it wasn't affecting him too much
"We all showed on Monday night that the character is still there so nothing's changed on that side of it."