Isle of Man TT: Bruce Anstey and John McGuinness earn wins
Last updated on .From the section Northern Ireland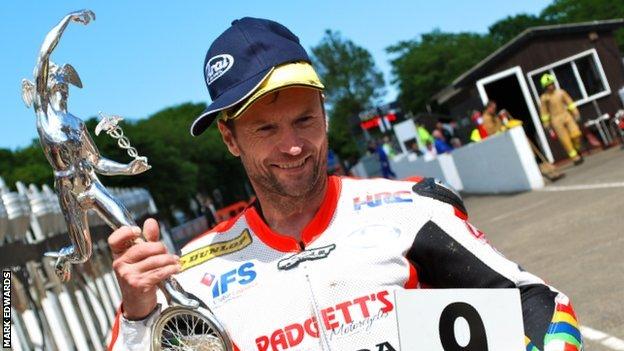 Bruce Anstey and John McGuinness took the victories in Monday's races at the Isle of Man TT.
Anstey edged out Cameron Donald by 0.77 seconds in Supersport Race One for his ninth TT win with William Dunlop taking his first Isle of Man podium finish.
Michael Dunlop led by 21 seconds after lap two before retiring.
McGuinness clinched his 19th TT win as he finished 7.8 seconds ahead of Michael Dunlop in the Superstock race with Ryan Farquhar in third.
Padgett's Honda rider McGuinness led Farquhar by 0.17 seconds after lap one, by four seconds after lap two and by 12 seconds after the third lap as he went on to clinch his first TT Superstock victory.
A final lap of 129.253mph, the fastest of the race, saw Dunlop move up to take second with Farquhar five seconds adrift of his fellow countryman.
Supersport winner Anstey, Guy Martin and James Hillier made up the top six.
In the earlier Supersport race, Michael Dunlop led by 10 seconds after lap one and by 21 seconds after lap two but retired at Ballig Bridge on his third circuit after setting the fastest lap of the race at 126.95mph.
Gary Johnson led after lap three but ran out of fuel in the closing stages which enabled William Dunlop to take his first-ever TT podium finish.
The 26-year-old Wilson Craig Honda trailed second-placed finisher Donald by 14 seconds at the chequered flag.
Michael Dunlop led Donald after the first lap, thanks to a lap of 126.26, with William third.
Yamaha rider Michael's lead increased on the next circuit, with Johnson taking over in second.
But the leader's retirement paved the way for a thrilling high-speed battle for the remainder of the race.
Lincolnshire rider Johnson secured a narrow two-second advantage over Anstey after the third lap, with Donald fractions of a second further back.
New Zealander Anstey produced the strongest final lap to pip his fellow Antipodean, with William Dunlop inheriting third after Johnson was forced to push over the line when his bike ran out of petrol.
Anstey's winning margin was the second closest ever in TT history.
"I thought I was going to run out of fuel on the home straight but I made it," said the delighted 43-year-old Padgett's Honda rider.
"I went for it on the last lap - I was trying as hard as I could."
McGuinness was fourth, fellow English rider Hillier was fifth and veteran Welshman Ian Lougher sixth.
There was further disappointment for Manxman Conor Cummins before the race as he was forced to remain on the sidelines as his injured wrist continues to heal.
Guy Martin retired at the end of the first lap while Farquhar failed to finish after running out of fuel on the final circuit.