Isle of Man TT: Tribute lap held for Mark Buckley
Last updated on .From the section Motorsport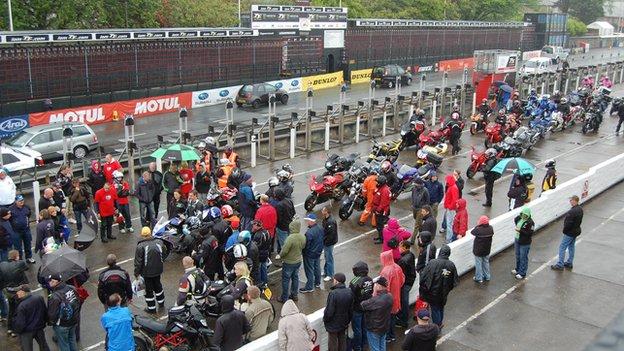 Dozens of bikers have taken part in a lap of the Isle of Man TT course in a tribute to the late TT rider Mark Buckley.
The Scottish rider had been due to compete for the Splitlath Redmond team in this year's event, but died at last month's North West 200 races.
The tribute lap organised by friends and family set off at 13:30 BST.
Buckley's number 66 Splitlath Redmond Aprilia machine will be ridden by friend and mechanic Dave Hopkinson.
Mr Hopkinson said the ride-out lap will be "a fitting tribute to the well-loved and respected racer.
"He would be laughing at me know as it is pouring with rain," he added.
"I just want Mark's Superbike to do a lap of the TT course, and that's what this is all about- it's unfinished business.
"Mark had been given a great opportunity this year after joining a big team with a bike which he was working on around the clock to make as competitive as possible. His hard work has shone through in the performance of Mark Miller's bike so far.
"He was so excited about the TT this year and it's just not the same without him here. I feel at least a part of him should get the chance to ride the course, and that's why we're doing this.
"I will ride his Superbike as he built it with his number. Mark was a good friend who would do anything for anyone and we miss him so very much. This lap is for him."
Buckley's wife Jayne and father Jimmy followed the ride-out in the course car.