TT 2012: Trio break 100mph lap mark in TT Zero race
Last updated on .From the section Motorsport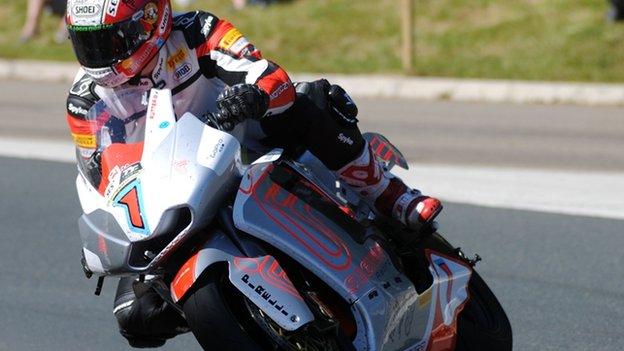 Three of the four finishers in the TT Zero race broke the magical 100mph figure on Wednesday.
Michael Rutter won the one-lap event for electric bikes at an average speed of 104.056mph on his Team Segway Racing MotoCzysz.
The Midlands rider pockets £10,000 after becoming the first rider to record the landmark speed.
John McGuinness was second at 102.215 and American Mark Miller third with 101.065.
TT legend McGuinness was competing in the race for the first time on a Mugen Shinden and finished 23 seconds behind Rutter.
Rutter's team-mate Miller was a further 15 seconds adrift in third.
Rob Barber, the winner of the inaugural TT Zero event, was the only other finisher.
Antonio Maeso, Russ Mountford, Ollie Linsdell, George Spence and Yoshinari Matsushita all retired.
Also on Wednesday, Dave Molyneux recorded his 16th TT win by seeing off the challenge of Tim Reeves in Sidecar race two.
Molyneux and passenger Patrick Farrance led early on the first lap, but Ben and Tom Birchall then moved ahead.
By the end of the opening circuit, Tim Reeves and Dan Sayle had hit the front, enjoying a 4.5 second advantage over Molyneux.
Reeves' lead after lap three was 0.8 seconds but a final lap of 114.486mph saw Molyneux take victory.
The Manxman's lead at the chequered flag was 17 seconds.