Rally driver Louise Cook sells trophies to finance title dream
Last updated on .From the section Motorsport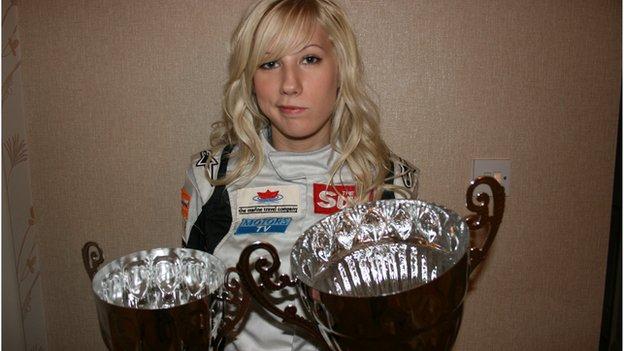 Aylesford's Louise Cook has been forced to auction her trophies in order to continue competing in the Production Car World Rally Championship.
Cook, 25, faces a fine and expulsion from the championship if she does not compete in New Zealand next week.
She told BBC South East Today: "Before a rally, you want to be looking at the stages and preparing.
"I always seem to be trying to get as much money in as I can just to cover that round."
The reigning British Ladies Rally Champion is competing in the production championship in only her third full season in the sport.
Because of the costs involved, participants are required to nominate six out of eight rounds at the start of the season in which they will compete - and Rally New Zealand is Cook's only long-haul trip.
In January, she finished second in Monte Carlo, becoming the first woman to claim a podium place, but since her sixth place in Greece last month, funds have dried up.
It has left Cook in a desperate search for money just a week before she is due to fly to the southern hemisphere, where she is due to compete in a borrowed car.
She has resorted to selling her trophies on eBay, making a hundred phone calls each day to potential backers.
"I'm just hoping that if I keep doing what I'm doing and trying to get potential sponsors interested, then maybe one day I might be in the position where I can go testing because I've only been testing once in my whole career," she said.
"You do have some really rubbish days but if you don't pick yourself up, no-one (else) is going to. The more people you meet, the more chance you'll get of sponsorship. It's a numbers game."
Currently fifth in the drivers' standings, Cook's ultimate aim is to become the first female world champion but she could have her racing licence withdrawn if she is unable to meet her commitments.
Co-driver Stefan Davis believes Cook has the talent to achieve her goal, providing she can find the necessary backing.
"It's a difficult task and I'm not sure if any young drivers have been so brave to step into a world series at the start of only their third year," he said.
"Louise is focused. She said to me 'if I want to be world champion, then I need to be doing world rally championship events not anything else.' With the right support she can make it."