Ryan Farquhar continues winning form at Bush road races
Last updated on .From the section Motorsport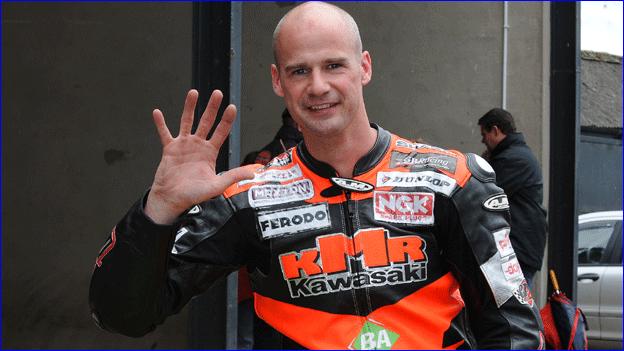 Ryan Farquhar took his career tally of Irish national race wins to 191 with five victories at the Bush road races.
Farquhar came to the meeting on the back of a similar display at the Mid Antrim 150 last week an began his run of successes in the Supertwins class.
The Dungannon rider followed that with wins in the Supersport 600, Open, Grand Final and Moto450 races as he dominated the event on his KMR Kawasaki bikes.
Seamus Elliott won the 250cc class and Sam Wilson the 125cc category.
Farquhar also won five races at last year's Bush meeting.
William Dunlop, Michael Dunlop, Michael Pearson and Adrian Archibald are all again sitting out the Bush races.
Bush road race results -
Open race - 1 Ryan Farquhar; 2 Derek Shiels; 3 Michael Sweeney
Supersport race - 1 Ryan Farquhar; 2 Derek Shiels; 3 Stephen McKnight
Supertwins race - 1 Ryan Farquhar; 2 Jamie Hamilton; 3 John Burrows
Grand Final - 1 Ryan Farquhar; 2 John Burrows; 3 Jamie Hamilton
250cc race - 1 Seamus Elliott; 2 Davy Morgan; 3 Brian Mateer
125cc race - 1 Sam Wilson; 2 Nigel Moore; 3 Seamus Elliott
Moto450 class - 1 Ryan Farquhar; 2 Anthony McColgan; 3 Trevor Ferguson