Speedway: Swindon Robins issue ultimatum to Simon Stead
Last updated on .From the section Motorsport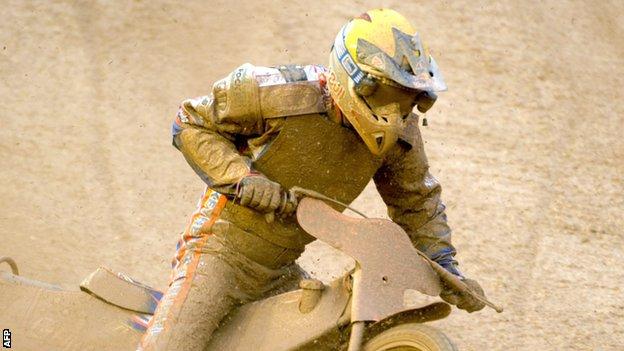 Swindon Robins promoter Gary Patchett says Simon Stead must improve his form or risk being replaced in the team.
The 30-year-old has scored only 11 points from his last four Elite League meetings, forcing the club to reconsider the rider's position.
"We were very concerned with Simon's form," Patchett told BBC Wiltshire.
"Simon knows we expect better from him. We don't want to be going in to the play-offs with any one of our team seriously under-performing."
He added: "If we were going to implement any changes before the play-offs then we would have to do so by a certain date, and the last opportunity would be on 15 September."
Stead was handed a new deal to ride with the Robins in December, despite struggling with injury last term.
He celebrated his testimonial with a meeting last week, and Patchett believe he has been distracted by the event.
"He's been concentrating on his testimonial, and rightly so," he continued. "It's clearly been playing on his mind.
"But it shouldn't be at the expense of his league form. It probably would have been better received by the fans if he had put in a better shift in the league.
"Now that's done hopefully we'll see some improved form from him. I'm sure Simon wants that to happen as much as we do."
Despite speculation he had already been removed from the team, Stead has been included in the line-up to face title rivals Poole on Thursday.
Swindon currently sit two points behind leaders Pirates in second place.
"We are fully behind Simon at the moment and we want him to turn things around and we'll assist him in trying to achieve that goal," concluded Patchett.
"He needs to show us he's turned that corner."