Speedway: Simon Stead lifted by Swindon Robins' performance
Last updated on .From the section Motorsport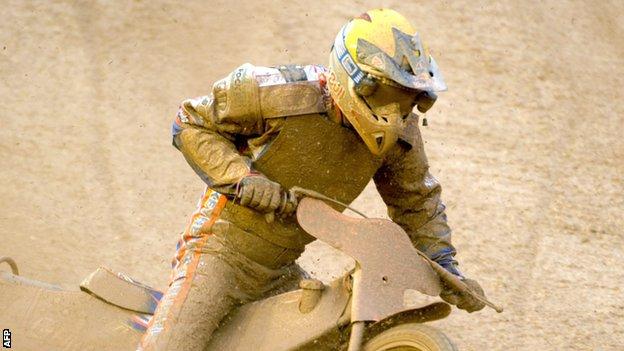 Swindon Robins rider Simon Stead says his performance in the win over Poole has given him confidence.
He recorded 5+2 as the Robins beat Pirates 50-43 on Thursday to close the gap at the top of the table.
"I can see light at the end of the tunnel and we're making steps. I'm not 100% but I'm happier than I was," the 30-year-old told BBC Wiltshire.
Robins promoter Gary Patchett said the club were "concerned" for the rider and they would have to consider replacing him in the line-up if he did not show an improvement.
"It's a performance-based business and I appreciate things haven't been going as well as we'd liked," admitted Stead.
"Anyone who knows me knows I give 100%.
"I'll just have to repay his faith in me and the fans' faith in me with points on the track."
Nick Morris top scored with 11+1 against Poole, while Troy Batchelor notched 10 and Danish star Peter Kildemand ended with 9+1.
"It's a crunch point of our season and we're all stepping up our game," added Stead.
"Nick Morris had a great meeting and looks a lot faster than he has done in recent weeks.
"He's turned a corner, as has Peter Kildemand and myself. If we've got those gremlins out of the way to beat a team like Poole then we have to be confident."
Swindon remain second in the league, two points behind Poole with five meetings remaining in the regular season.