Manx Grand Prix 2012: Urgent marshal appeal issued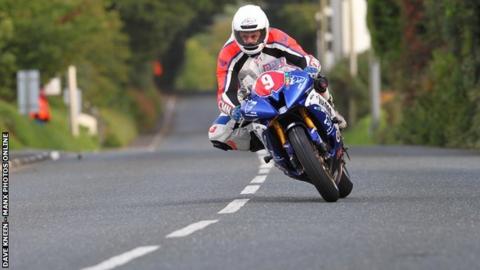 The Isle of Man TT Marshals Association is appealing for extra help as the Manx Grand Prix race schedule looks set to be affected by rainfall.
More than 500 marshals are required for each race before the Clerk of the Course will give it the go ahead.
Chairman Terry Holmes said: "The rain has affected the programme and if racing is held on Thursday then we will need extra help."
Monday's schedule will run on Tuesday with roads closing at 11:30 BST.
Holmes continued: "We would welcome anyone who would like to help, especially those with previous experience. Anyone who can help is asked to contact the IOMTTMA at the TT Grandstand.
"We can't change the weather and it looks like we may get racing on Thursday. If that happens it will be all hands on deck as a lot of the local marshals will be back at work and many of the visitors will be heading home."
Applicants must be 16 or over and, if under 18, will need the consent of a parent or guardian.
Kamil Holan became the first rider from the Czech Republic to win a Manx Grand Prix race on Saturday after claiming the Newcomers race A.
Manx rider Andrew Dudgeon won the SuperTwin (Newcomer race B) and Yorkshire's Jamie Cowton won the Lightweight (Newcomers race C) race.
Racing will get under way at 12:00 BST on Tuesday with the concurrently run 3500cc/250cc Classic Grand Prix followed by the Manx Grand Prix.