Ryan Farquhar and Dave Madsen-Mygdal claim Manx GP victories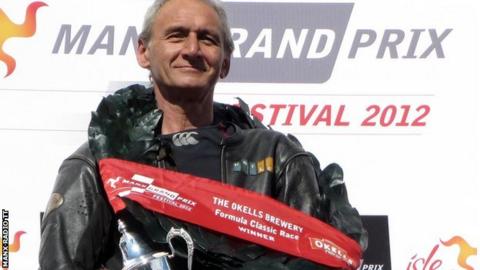 Northern Ireland's Ryan Farquhar and Manx racer Dave Madsen-Mygdal claimed victories at the Manx Grand Prix on Wednesday.
Farquhar won the 500cc Classic race by a commanding five-minute margin on his 499cc Paton ahead of Norton-mounted Chris Swallow, his 10th MGP victory.
The 36-year-old from Tyrone said: "It went spot-on. I got my head down from the start and it went well."
Castletown's Chris Palmer came third after pushing home.
Palmer said: "It cut out when I came out onto the main road and it was a long push from there.
"I didn't think I was going to make it but the cheers from the crowd and the marshals kept me going.
"No one told me it was going to be that hard," he added.
Meanwhile, Madsen-Mygdal won the concurrently run Formula Classic race on his 750cc Triumph.
The Douglas rider averaged 99.111 mph to claim his maiden win on the Mountain Course ahead of Mark Parret and Adam Ward.
He said: "I'm a little bit of a late starter - but I am absolutely made up to get it. Everyone has been working so hard, I just ride the bike."
On Tuesday, Wayne Kirwan claimed a thrilling first victory in the Junior Manx Grand Prix, Chris Palmer won the 350cc Classic and Peter Symes triumphed in the 250cc race.
Racing will continue on Friday with the Classic Superbike and Junior Post Classic races followed by the Senior race.