Ryan Farquhar confirms retirement with immediate effect
Last updated on .From the section Motorsport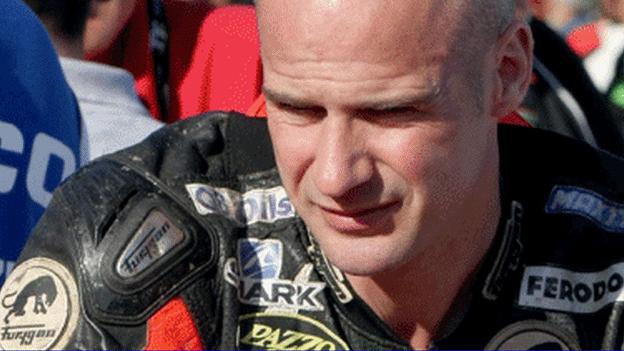 Ryan Farquhar has confirmed that he has retired from road racing with immediate effect following the death of his uncle at the Manx Grand Prix last week.
Trevor Ferguson was killed while riding one of the Dungannon man's KMR Kawasaki machines in the Supertwins class.
"For me, racing will never be the same again and I'm absolutely gutted by the tragic events of last week so I've decided to quit with immediate effect.
"I wish I wasn't retiring under such sad circumstances but it's happened."
"We're all trying to get through it as best we can," said Farquhar.
"I don't ever want my wife and girls to go through something like this."
The 36-year-old is the most decorated rider in Irish road racing history with 199 wins on Irish roads at international and national level.
Farquhar also hangs up his leathers with four Isle of Man TT wins to his name, the last of which came in the Supertwins class in June.
He hopes to continue his involvement with racing by running the KMR Kawasaki team which he has built up in recent years.
"Our whole world's been turned upside down and it's too early to say what the future holds for KMR Kawasaki. If I can, I'd like to continue running the team.
"I love the sport dearly so I'd like to pass on my experience to a good, young rider in 2013, hopefully Jamie, but it will all depend on what sponsorship we can pull together."