IndyCar driver Mike Conway turns back on oval racing
Last updated on .From the section Motorsport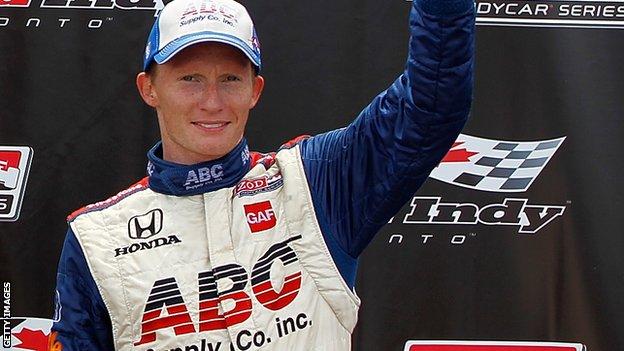 Kent racing driver Mike Conway has decided to quit racing on oval circuits in IndyCar.
Conway, 29, chose to call it a day during testing in Fontana before the final race of the 2012 season.
"It wasn't a quick thought. It's been in the back of my mind during the season but I just ignored it," the racer told BBC Kent.
"It wasn't the track or the car, it just sunk in then. I didn't want to race on the ovals any more."
Conway's decision to quit oval racing in the build-up to the finale of the 2012 season came after four years in IndyCar, during which he registered one victory.
"It was only one o'clock and we were going to be there on track at eight," he continued.
"I pulled my engineer aside and said 'I'm not comfortable driving the car anymore'. He was a bit shocked.
"He told me to get back in and we did another run. After that I said no. I spoke to my manager and my dad and they were 100% behind me."
In 2010, the Bromley-born driver escaped with a broken leg and compression fracture in his back following a serious accident in the Indianapolis 500.
Following the death of Englishman Dan Wheldon in Las Vegas last October, Conway admitted to feeling uncomfortable racing at such high speeds in close proximity to other cars, but insists a culmination of events led to his announcement.
"Maybe it was there in the back of my mind, being injured before and I lost a friend last year. It wasn't 100% that," Conway added.
"They do hurt any time you have a thump on an oval. I didn't want any of that to happen again.
"The series works very hard to make it as safe as possible, but at those speeds it's always difficult to control what happens in an accident."