Ryan Farquhar was one of Ireland's best-ever road racers
By Richard Petrie
BBC Sport NI
Last updated on .From the section Motorsport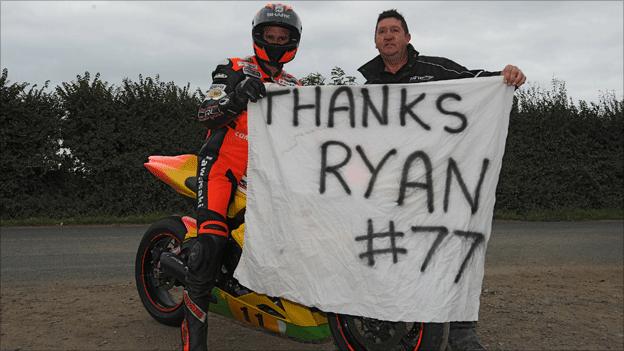 The news of Ryan Farquhar's retirement is still being digested by motorcycle racing fans and may take some time to sink in.
Indeed such is the addictive nature of the sport, many remain to be convinced that they have seen the last of Ireland's most decorated rider in competitive action.
After almost 20 years in the saddle, the Dungannon road racer decided that the inherent risks involved in his chosen sport were no longer worth taking following the tragic death of his uncle, Trevor Ferguson, at the recent Manx Grand Prix meeting.
Undoubtedly, Farquhar would have liked to have ended his racing days in happier circumstances and on his own terms, but it was not to be.
Unlike many others, he will at least live to tell the tale and be able to reflect on his illustrious achievements, with nothing left to prove.
It is a sad irony that it was on the Isle of Man, on which he enjoyed racing so much, that Farquhar finally called time on his career.
The multiple Irish champion competed twice annually on the island's Mountain Course at the Isle of Man TT and Manx Grand Prix meetings, as well as at the Southern 100 races on the Billown circuit.
In road racing terms, at 36 years of age, Farquhar is not old for a motorcycling discipline where experience counts for much.
But Farquhar has stated that there are things he wants to do with his family, which the hugely time-consuming dedication required to race and run a team do not permit.
In what many competitors would readily admit is a selfish sport, where bereaved relatives are often left to pick up the pieces, the Dungannon rider is to be admired for choosing to put the interests of his nearest and dearest first.
The fact that Farquhar named his KMR racing team after his children Keeley and Mya is an indication of the affection in which he holds them and his wife Karen, and it is those bonds which ultimately led to his decision to quit.
Farquhar's talent and potential were obvious from the time he first stepped into his leathers in the early 1990s.
He went on to rack up 199 wins on the Irish roads, 186 in national races and 13 at the international North West 200 and Ulster Grand Prix events.
In addition to his success at home, he enjoyed three TT successes and clocked up multiple victories at the Manx GP, Southern 100 and Scarborough races.
His ability, engineering skills and public profile, allied to support from personal sponsors, ultimately allowed him to make a living out of the sport after giving up his job as a plant fitter.
Like most pure road racers, it was the TT which he held in highest esteem and it was fitting that his last appearance there saw him win the Supertwins class and claim podium places in the Superstock and Supersport events.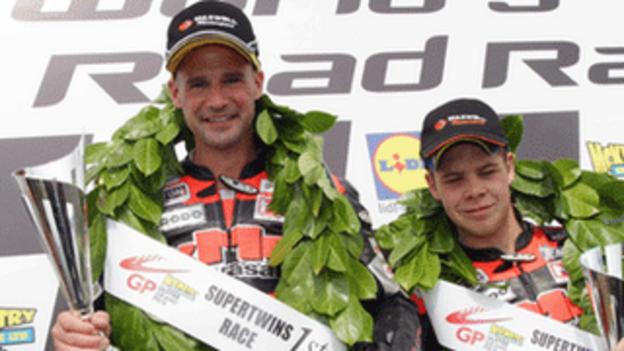 His legacy will also include the introduction of the blossoming low cost Supertwins class, which he championed and dominated in recent seasons.
And looking to the future, the forward-thinking Farquhar has tabled proposals for the introduction of a new series to breathe much-needed life into the ailing Irish national road race and short circuit scene.
The only achievement missing from his CV was the international Superbike win which he so craved and, in this respect, his cause was probably not helped by a desire to do his own thing and be his own boss in racing terms.
Promising partnerships with the TAS Suzuki and McAdoo Kawasaki teams could perhaps have delivered sucess in the 'big bike' class, but both ended prematurely and he struggled to find a competitive package for the blue riband category of racing.
Sometimes outspoken, Farquhar was never afraid to say what was on his mind.
Farquhar had hinted at possible retirement before, most notably after a major crash in 2005 and following the death of regular rival Martin Finnegan at the Tandragee 100 in 2008.
He took a sabbatical during the summer of 2011 and had planned to scale down his efforts substantially next year, before the sad death of his uncle persuaded him to hang up his leathers with immediate effect.
It is the national road scene which will miss the former Irish Motorcyclist of the Year most keenly as the 'number 77' was a virtual ever-present at courses throughout Ireland on his trademark bright orange and black machines, coming tantalisingly close to his target of 200 wins.
Farquhar's brave decision to retire from a sport which demands fortitude above all else leaves a huge gap which will be very hard to fill, and the prospect of a 2013 season without one of Ireland's all-time greatest is hard to imagine and will take some getting used to.
Hopefully, his knowledge will not be lost to the sport as he puts his engineering skills to continued use and contemplates a future as a team owner and mentor to young riders.