Plymouth Devils consortium bid fails
By Mike Tamblin
BBC South West Sport
Last updated on .From the section Motorsport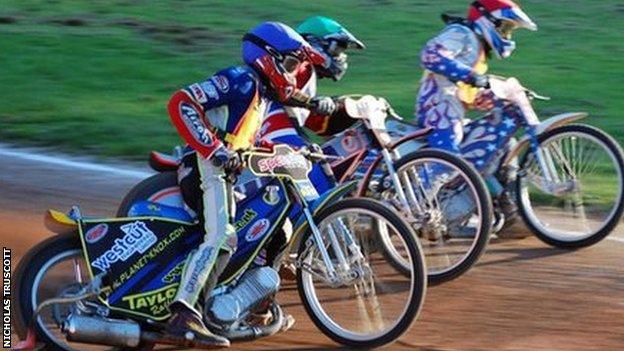 The four-man consortium hoping to take over Plymouth Devils have had to accept defeat in their bid.
Despite previously agreeing a deal with current club promoter Mike Bowden over the sale of the club, an agreement has not been reached with the landowners.
The sticking point with the deal throughout has been the lease for the land that the track sits on, which expires in 2014.
Owners St Boniface College were looking to sell rather than keep a tenant.
In a statement one of the bidders, Godfrey Spargo, said:
"The four man consortium hoping to take over the running of Plymouth Speedway have been forced to accept that they will be unable to offer a commitment to the BSPA that they will be in a position to push forward with a takeover of the Premier League licence.
"The school governors were only prepared to offer a licence to use the site up until March 2014, the date of the original licence with Mr Bowden, and no extension would be offered beyond that date.
"It is therefore with the deepest regret and disappointment that the consortium have to say that they will be unable to progress with the planned speedway takeover in time for Plymouth to join the 2013 Premier League."
With the British Speedway Annual General Meeting this weekend, time has run out for the consortium.
It means Bowden will remain in charge of the club with Plymouth's future to be decided at the AGM.