Manx Grand Prix awarded 'FIM International' status
Last updated on .From the section Motorsport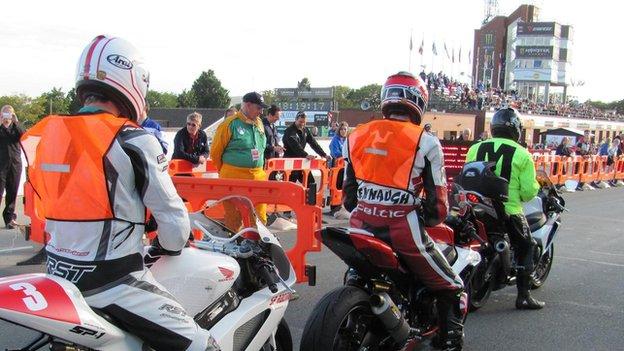 The Manx Grand Prix has received 'FIM International' status in its 90th year, replacing the event's previous 'European Open' status.
The status means competitors from countries including Australia, New Zealand and the USA can now compete on their own federation licences.
Manx Motor Cycle Club, Harvey Garton, said he was "delighted".
Last year more than 50 newcomers competed at the races held around the Isle of Man TT course in August.
Riders previously had to hold an ACU, SACU or European licence and therefore needed to be granted licences through other countries governing bodies to compete.
"We are delighted that the meeting has secured FIM international status as it will now make it easier for competitors outside the core European countries to participate in the meeting under their own federation's licence," Garton said.
"The growing international profile of the event means that we are receiving more and more enquiries from competitors outside the usual participating countries and this new status will make it easier for them to compete."
Last year riders from Sweden, the Czech Republic, Finland, Netherlands, France, Denmark, USA, Germany, Austria, Faroe Islands and Belgium all took to the competed at the Manx event for the first time.
Kamil Holan from the Czech Republic became the first non-British, Manx or Irish rider to win a modern race at the meeting.