Josh Brookes to make Isle of Man TT debut with TAS Suzuki
Last updated on .From the section Motorsport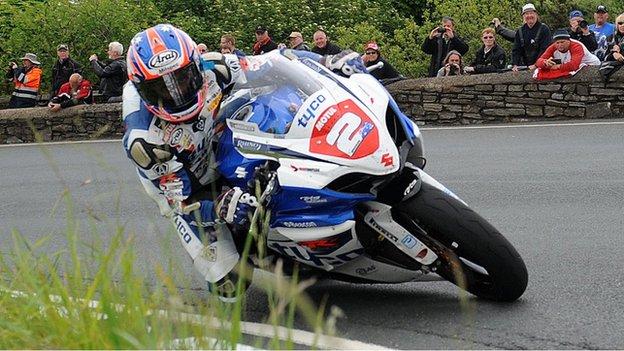 Australian racer Josh Brookes has confirmed he is to make his Isle of Man debut in 2013.
The 2012 British Superbike Championship runner up will compete at the event for the Northern Irish based Tyco Suzuki team.
The 29-year-old said: "I am glad it's all out in the open. I'm with what I regard as the best team at the event, which gives me peace of mind."
Brookes's team-mate for the June event is yet to be decided.
This year the team was Guy Martin and Manx rider Conor Cummins.
Martin recorded a best place finish of fourth whilst Cummins was forced to miss his home event after picking up a hand injury at the North West 200.
Brookes added: "Since making the decision I've taken in some reconnaissance trips and spoken to a number of influential people.
"I fell in love with the place on my first visit back in 2009. It's the beginning of a new project and we'll just see how it goes."
Team Manager Philip Neill said: "As a team with a strong background in pure road racing I suppose it was inevitable that Josh would like to have a go at the TT.
"He's one of the highest-profile newcomers to come to the TT in recent years, but I know it's not a spur-of-the-moment idea. He has given it careful consideration.
"We won't be expecting any miracle results and there is certainly no pressure on him. Our job is to use our experience and guide him to our best ability, but Josh is a sensible lad."
Brookes took part in a parade lap at this year's TT alongside Kevin Schwantz and MotoGP star Cal Crutchlow.