Confusion surrounds running of 2013 Circuit of Ireland Rally
Last updated on .From the section Motorsport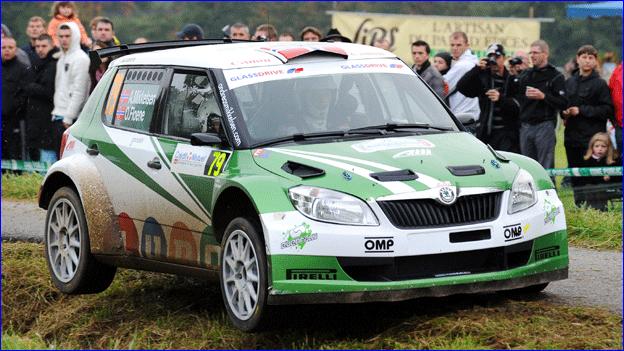 Confusion surrounds the immediate future of the Circuit of Ireland after organisers of the rally issued contradictory statements about the running of the 2013 event on Friday.
Rally Director Bobby Willis said the Easter showpiece would not take place next year because of a lack of funding.
The Ulster Automobile Club insisted the rally would go ahead, but as a national event rather than an international one.
"We will deliver the same high standard event of recent years," said the UAC.
It now seems likely that the rally will go ahead, but will not be part of the new European Rally Championship, as had recently been proposed.
The 2013 event is set to revert to being solely a round of the Irish Tarmac Championship, with no international status.
The historic rally is one of the showpiece events of the Irish motorsport calendar.
In his statement on Friday morning, Willis said the decision not to run in 2013 was "an extremely painful judgement to make".
"We have received significant backing from Government but were falling short of our full funding requirements.
"We will regroup and begin planning now for 2014," he said.
"I publicly expressed concern over funding for the 2013 Rally in October and given the delay this has imposed it is now impossible to organise an international sporting event in less than three months," he added.
The event has been revived in recent years and was last year included in the International Rally Challenge series.
The rally had also been provisionally named in 2013 FIA European Rally Championship calendar.
"Over the last three years I have invested my own money and resources into getting the rally up and running in the hope that funding would materialise before the event," explained Willis.
"I am no longer willing to play Russian roulette with my own finances in order to safeguard a rally that has worldwide appeal, even though it is so close to my heart."
Willis had masterminded the re-birth of the Easter run Circuit of Ireland over recent years and was credited with reawakening the sleeping sporting giant by realising his vision of "bringing rallying to the people" through popular city centre stages in Lisburn and Titanic Quarter.
"Given the geographical spread of the Rally and the many stakeholders it interfaces with, it is a huge logistical challenge but one with incredible tourism potential and rewards, as last year proved with picture perfect postcard images of Northern Ireland broadcast around the globe.
"While the team is hugely disappointed I can assure fans that this is not the end for the Circuit of Ireland Rally we will re-group and make every effort to come back stronger in 2014."
However the UAC, which owns the naming rights to the Circuit of Ireland, then released its own statement on Friday afternoon stressing "that this decision only affects the International section of the rally".
,