Motocrosser Natalie Kane focuses on world title bid
By Richard Petrie
BBC Sport NI
Last updated on .From the section Motorsport
In a sport which has traditionally been a male preserve, Natalie Kane is breaking the mould.
Female competitors may be few and far between in the physically demanding two-wheel discipline of motocross, but the talented 21-year-old has proved she has what it takes to tough it out at the top.
The Loughbrickland girl finished second in last year's women's world championship, winning her first race on the global stage in the process, and is hoping to go one better this season.
"It won't be easy, there are a lot of good girls out there, but I'll try to be consistent and hopefully I'll have some luck along the way," said Natalie.
"Any of the top five or six can win a race, so mistakes can be very costly," added the HM Plant KTM rider.
For the five-time British champion, it came naturally to follow in the wheeltracks of her parents and cousins, who also competed in the off-road side of motorcycle sport.
"My cousin let me have a go on his bike when I was about three and it all went from there really - I started to get better and better and won the Ulster and Irish Championships, racing against the boys at youth level.
"It could be hard to get sponsorship as some people didn't like the fact that I was beating the lads, while some of my rivals didn't even realise they were competing against a girl until I took my helmet off.
"The odd one tried to take me off as they couldn't handle the fact that I was going to beat them, but most of them respected me and didn't treat me any differently when I was out on the track.
"On the whole, I didn't mind racing against the boys as that's where I think I got my speed from, and you were constantly battling with someone."
Natalie competed successfully in the British championship series and then progressed to the world stage, by which time she was acutely aware of the dedication and sacrifices necessary to make it at the highest level.
"There aren't the same rewards on offer that there are in other sports, but it's one of the hardest sports you can do in terms of taking a toll on your body.
"You use so many muscles and even if you don't crash, you can twist something or land too hard after a jump.
"I've broken my right wrist six or seven times, my left wrist four times and I've suffered fractures to my leg, shoulder and collarbone.
"It comes with the territory but it does set you back more than you realise - it takes a lot of time to get your confidence back and get up to the same speed you were at before.
"None of that has put me off though - my mum and dad mentioned quitting a few times when I was younger but when you recover it's fine again - if your family see you unconscious and lying on the track, I guess it hits home that what I'm doing is quite dangerous.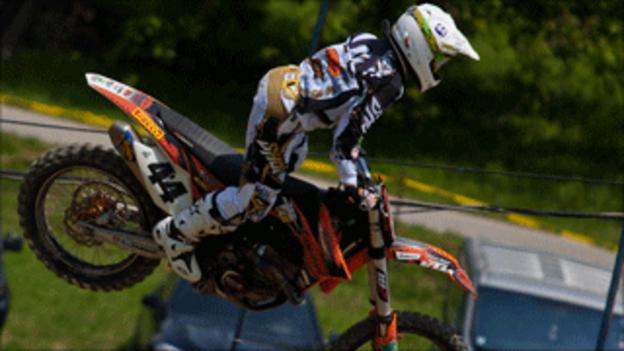 "Last year was the first that I didn't suffer any serious injuries, I just had a small injury to my hand at the start of the season, and I managed to achieve steady results."
The County Down woman will leave for Belgium in the next couple of weeks to continue her preparations for a punishing schedule of events across Europe and will be away from home for months at a a time, living mostly in a camper van.
"Motocross has become my life - training at the gym in the off-season, travelling and riding the bike takes up most of my time and it isn't really possible to have a social life outside of the sport.
"You can let your hair down the odd time, but you can't do things like partying at weekends because you have to stick to your training regime, so it's mostly off to bed early.
"We have lots of fun at the track though - everyone on the circuit gets on really well and what happens on the track stays on the track.
"It was a big step to move up to world motocross and the fact that I was beaten by another girl for the first time wasn't easy to take, but I learnt a lot from it.
"My team manager Roger Magee has helped me make that step up and it's good to have someone from Northern Ireland in charge - everyone involved in the set-up gets on well and we all help each other out.
"Because of the economic situation I have been working on my own bikes in recent times - three or four years ago you could comfortably make a living, but now if you don't get the results, you don't get the money."
So would Natalie ever consider trying her hand at tarmac racing?
"I've been offered a few deals to do short circuit events but motocross is what I like best at the minute.
"You never know what the future holds, but it's not on my radar at the moment."