Guernsey's Andy Priaulx confident of 2013 DTM success
Last updated on .From the section Motorsport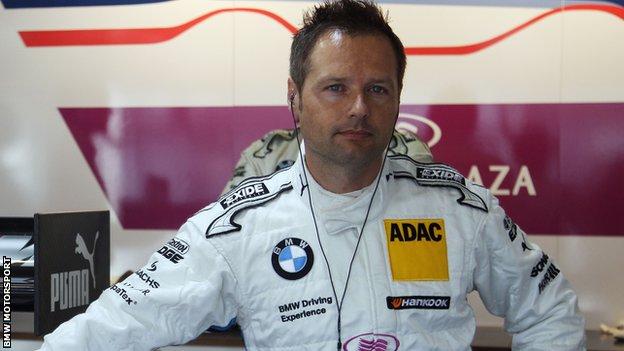 Guernsey touring car driver Andy Priaulx is confident he can achieve improved results in this year's DTM championship in Germany.
The 39-year-old struggled last year, ending after scoring points in just four races for BMW Team RBM.
The former triple World Touring Car champion begins his second DTM season at Hockenheim on 5 May.
"Without doubt my main aim is to get back to my winning ways," he said.
"I am confident my end-of-year performance showed I can still be a major challenger for wins and so, using all the experience I gained last year as a DTM rookie will be invaluable.
"I know the car well and I also now all the circuits, so I feel there is nothing that can stop me."
Last season was not only Priaulx's first in DTM, but also marked BMW's return to the championship after 20 years.
The German manufacturer ran three teams, but has increased that to four this year with ex-Formula One driver Timo Glock and Marco Wittmann driving the BMW Team MTEK car.
Priaulx, meanwhile, has switched from RBM to Team RMG, which is based close the Nurburgring circuit.
And he beleives the experience both he and the team gained last year will help them do better in 2013.
"It will be so different to when we all arrived in Hockenheim 12 months ago as the newcomers," he added.
"BMW has proved just how competitive it can be in any racing environment and I am proud to be part of that family.
"While I shall not be with BMW Team RBM, there will not be many changes for me as all the BMW teams work as one."