Glenn Irwin aims for British Supersport title success
By Richard Petrie
BBC Sport NI
Last updated on .From the section Northern Ireland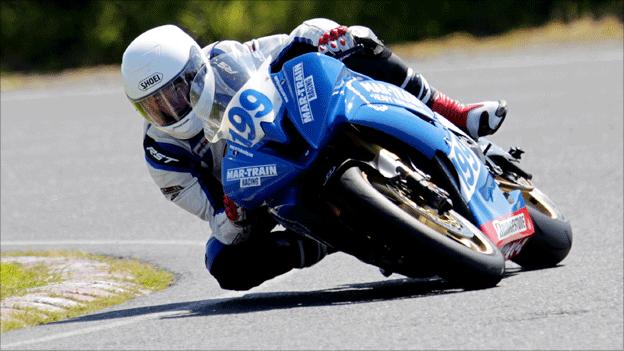 Glenn Irwin is the latest in a long line of talented Irish riders to make their mark on the British championship short circuit scene.
Jamie Hamilton, Lee Johnston, John Simpson and Keith Farmer have all collected titles in recent years and Irwin followed in their wheeltracks by winning the British Supersport Cup last season, awarded to the best privateer in the championship for tuned 600cc bikes.
The Carrickfergus pilot finished ninth overall in the Supersport series in 2012 and has secured backing from the Mar-Train Yamaha outfit for the forthcoming campaign, which starts at Brands Hatch on 7 April.
The Lisburn-based team narrowly missed out on the title with Dubliner Jack Kennedy last season, having to settle for runner-up spot behind Australian Glenn Richards after a dramatic final round.
"Last year I only got things finalised 10 days before the opening round of the series as my deal to ride in the European Superstock 600 championship fell through," explained Irwin.
"I could have been seventh in British Supersport but this time I'm determined to get on the podium and hopefully win races - the chance to ride for Mar-Train has really motivated me.
"I'm looking to improve all the time and I believe there are about 11 riders who can win races this year.
"Consistency is going to be the key and I want to stay with the top group, get plenty of top six finishes, and hopefully I will not be too far away.
"If I can put the Yamaha R6 on top come the end of 2013, I'll be very happy and I'm totally focussed on the job in hand."
The 23-year-old could have linked up with the team, run by husband and wife Tim and Sonya Martin, last year, but was happy to get some more experience under his belt.
"I very nearly rode for Mar-Train in 2012 but that would have been a year too early for me as a rider.
"Now it's perfect timing as I hope I've proved myself capable of competing at a level where the team would expect me to be.
"The whole team has a year of experience of running at the front of the pack, and we have a lot of good data from last year, when Jack came second."
The ex-Mondello Masters 600 champion took part in motocross competitively until the age of 17 before turning to track racing after, in his own words, "my younger brother Graeme started to beat me and it became embarrassing".
His sibling, one year his junior, is now a contender for the British Motocross MX2 series with the official Suzuki GB team, so a family double could well be on the cards this season.
Glenn went on to win the Irish and Ulster Supersport championships twice, as well as finishing second in the British Superstock 600 class.
"With the season fast approaching, I'm now training twice a day Monday to Friday, as well as playing Amateur League football on a Saturday and running up a mountain every Sunday," said the son of former Irish short circuit and roads champion Alan Irwin.
"It's virtually full-time and I'm already 4.5kg lighter than last season and feeling the better of it.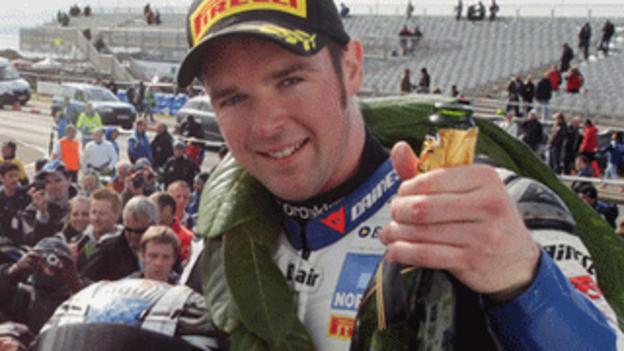 "I'm getting a lot of help from the Sport Institute of Northern Ireland (SINI) and I train with Alastair Seeley, who will be one of my main rivals for the Supersport crown this year.
"There's quite a bit of banter between us and he seems to mention me quite a lot in media interviews, so maybe I'm starting to get into his head a bit."
Irwin will have recently retired former Irish Superbike champion Kirk Jamison on board in an advisory role, while Scot Stuart Easton brings plenty of experience to the team's tilt at the Supersport title.
"Stuart will be a fantastic team-mate, he's a very smooth rider, and I can't wait to share data and learn from him.
"Supersport is always a very tight class and I would predict 24 very close races, so I will need to have mental strength, sharpness and concentration, which all in turn lead to consistency.
"By my own admission, I can be a bit too keen at times and Kirk is there mainly to keep my feet on the ground and provide me with a few tips.
"I was maybe a bit over exuberant in difficult conditions during our first test at Cartagena recently and I crashed on the first day, but I still managed to get a couple of days of good track time.
"It's now just a matter of building up my confidence again, but the team has been fantastic, especially after heavily damaging a bike on my first day with them."
Meanwhile the County Antrim lad is also considering making his public roads debut at the North West 200, but may have to delay that ambition until another year.
"It's a race I would love to do but it doesn't look like it will happen this season, so I'll just have to wait and be patient. I'm not sure my dad would be too pleased, but it's definitely on my 'to do' list."