Danica Patrick secures best ever Daytona finish for a woman
Last updated on .From the section Motorsport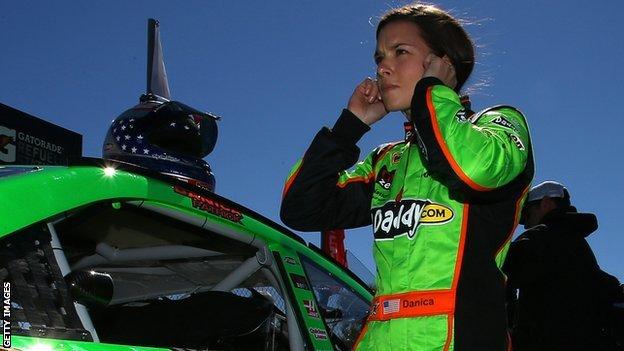 Danica Patrick secured the best ever finish for a woman in the Daytona 500 by finishing eighth.
The American, 30, started the race from pole position - the first woman to do so in any Nascar Sprint Cup race - but lost the lead on the first lap.
She led briefly after lap 90 and was third on the final lap before falling back five places as Jimmie Johnson won the famous race for the second time.
"It was a steady day for me. Nothing super-duper eventful," she said.
Patrick became the first female to win a single-seater IndyCar Series race in 2008 before switching to the stock car series Nascar.
After finishing 10th in the Nationwide Series in her first full-season, she stepped up to the Sprint Car Series - the elite level of stock car racing in the United States.
Patrick said she was frustrated that she lost five positions on the final lap, but pleased that she was able to contend with the frontrunners in the 500-mile, 200-lap race.
"I would imagine that pretty much anyone would kick themselves," she said. "I didn't know what to do exactly. So I feel like maybe that's just my inexperience.
"Maybe that's me not thinking hard enough, I don't know, [not] getting creative enough."
"I think it was better to have run up in the top 10 all day. Being able to stay up and lead at one point for me... that was more of an accomplishment."
Janet Guthrie still holds the record for the best finish by a woman at the highest level of Nascar, finishing sixth at Bristol in 1977.