BBC Sport NI to cover 2013 North West 200 in High Definition
Last updated on .From the section Northern Ireland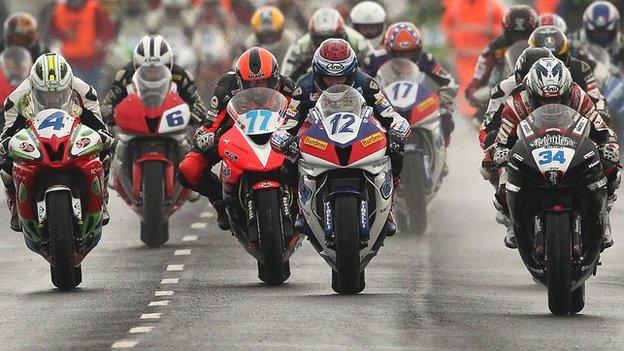 BBC Sport NI's comprehensive coverage of this year's North West 200 will see the event televised in High Definition for the first time.
The event, now in its 84th year, attracts bikers and fans of road racing from all corners of the world.
"We'll have super slo-mo cameras, kerb cams, and on boards to capture the best coverage of the event," said BBC Sport NI editor Shane Glynn.
Once again racing will take place over two days on 16 May and Saturday 18 May.
Tens of thousands of fans will line the nine-mile circuit on race day to see the best riders in the world pit their wits against each other at speeds approaching 200mph.
"Last year's new format was very successful, and we'll have live coverage of both practice sessions and Thursday night's racing on both Radio Ulster and via our online site," added the BBC Sport NI editor.
"The most important element of our coverage is teamwork, and we're again looking forward to working closely with Mervyn Whyte and his team to provide race fans with the best possible coverage of this year's North West 200."
Thanking Shane and the full BBC NW200 team, the North West 200's Technical Director Whyte said:
"The BBC team continue to deliver a fantastic range of global coverage and each year add new and creative dimensions to their output.
"The high calibre production provides an exciting mix of radio, TV and online coverage which reaches millions of people worldwide.
"Everyone at Coleraine and District Motor Club would like to wholeheartedly thank Shane Glynn and the team at BBC Sport NI for their hard work and professionalism and we look forward to another first class partnership."
Coverage of the NW200 on BBC NI TV will include an extended Friday night preview programme, and two one-hour highlights programmes, all presented by Stephen Watson and Phillip McCallen.
There will also be reports and special features from behind-the-scenes on BBC Newsline throughout race week.
Both practice sessions and every race will be live on the BBC Radio Ulster MW and on the BBC Sport NI website (bbc.co.uk/sportni).
The television coverage will be provided by Greenlight TV, and will feature up to 28 camera angles provided by trackside cameras, the aerial helicopter camera and on-board cameras.