Michael Rutter confident of North West 200 fitness
Last updated on .From the section Northern Ireland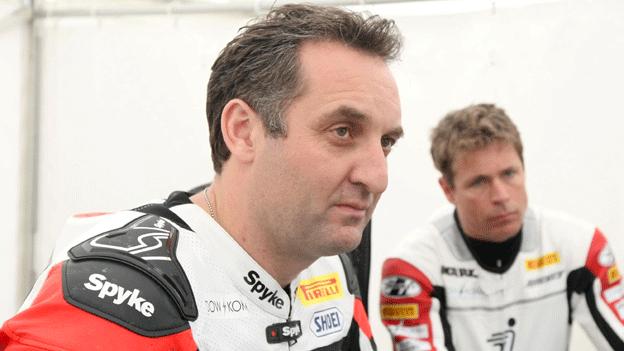 Michael Rutter is confident he will be fit for the North West 200 after suffering a broken leg while testing with the Honda Legends team in France.
The 40-year-old rider crashed during a session at the Mireval circuit.
Rutter broke his tibia above the ankle joint in the accident on Sunday but the injury is said to be "uncomplicated".
The 13-times North West winner won the second Superstock race last year and finished second in the main Superbike race behind Alastair Seeley.
The Birmingham rider is also scheduled to compete in this year's British Superbike Championship and Isle of Man TT.
Rutter, who is also a former TT winner, will visit a specialist in Ipswich on Wednesday for treatment, having already consulted the BSB doctor.
The Midlands man has been informed that the injury will heal relatively quickly and should allow him to be back in action by Easter.
He says he is certain that he will be fit in time for the North West 200 in May.
"I spoke to Michael today and he was in good spirits even though he said it had been a bad toss and the leg was very sore," said North West Event Director Mervyn Whyte.
"Hopefully when he gets treatment all will be well for May 18 and he will be on the North West grid once again."