Classic TT: Conor Cummins to compete on Norton machinery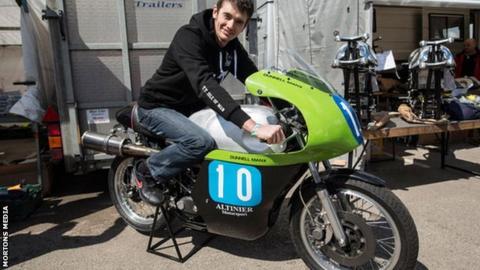 Isle of Man TT star Conor Cummins will contest the inaugural 500cc and 350cc Classic TT Races on board Manx Nortons built and prepared by Tony Dunnell.
The Manx racer will also compete in the Formula One race on an XR69 Suzuki for Team Classic Suzuki alongside team-mate Michael Dunlop.
Cummins commented: "I am delighted to have the chance to ride Tony's immaculate bikes."
Dunnell is one of the UK's most respected classic bike builders.
He said: "We have been keen to be involved in the Classic TT since it was originally announced and to be able to do it with a rider of the calibre of Conor Cummins is very exciting.
"Conor's talent is unquestionable and we are committed to providing him with the very best bikes we can to match his ability."
Cummins is the quickest Manx TT racer of all time and holds the Superbike lap record for the event, set from a standing start.
He added: "I've wanted to support the Classic TT right from the start. I think it is an excellent idea and the interest since it was first announced has been amazing.
"It's going to be quite a challenge getting used to all these new bikes, but I'm lucky to have been asked to ride some of the best machines around and I want to reward the support being put in me with some top results."
Dunnell has a long association with the Isle of Man, first as a competitor in the Manx Grand Prix and in later years as a sponsor and entrant.