Classic TT Races 'significantly oversubscribed'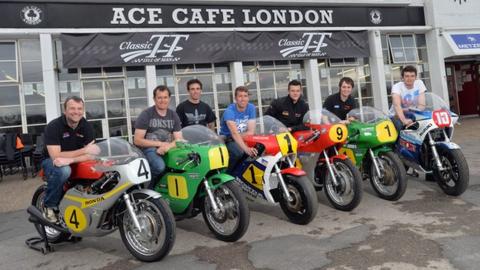 Two of the three main classes at the inaugural Classic TT Races have been "significantly oversubscribed", organisers have confirmed.
More than 300 riders registered for the August event which forms part of the Isle of Man Festival of Motorcycling, alongside the Manx Grand Prix.
Organiser Trevor Hussey said it is the "best entry for a classic motorcycle race in the world this year".
Numerous current TT stars including several winners have signed up.
The most successful TT rider of recent times, John McGuinness, as well as Michael Dunlop, Bruce Anstey and Cameron Donald will all compete alongside the fastest Manx rider to lap the TT course, Conor Cummins.
Entries have been confirmed from Australia, New Zealand, the USA, France, Germany, Belgium, Holland as well as the UK and the Isle of Man.
Racing will begin on 24 August with the 500cc Classic TT, which sees machines from the 1960s once again grace the Mountain Course.
The following day will see the combined 350cc/250cc Classic TT with both classes receiving around 100 entries.
The biggest number of entries was received for the combined Formula 1/Formula 2/Formula Classic Race.
The Isle of Man's head of motorsport, Trevor Hussey, said over 120 entries were received for the final race making it "significantly oversubscribed".
The three concurrently run races will recreate scenes from the 1970s, 80s and 90s with a mixture of Grand Prix racing two stroke machines and early Japanese Superbikes doing battle on the TT Mountain Course.
The Manx Grand Prix will also celebrate its 90th anniversary in 2013 as part of the Festival of Motorcycling.