North West 200: Wet and wild on Northern Ireland coast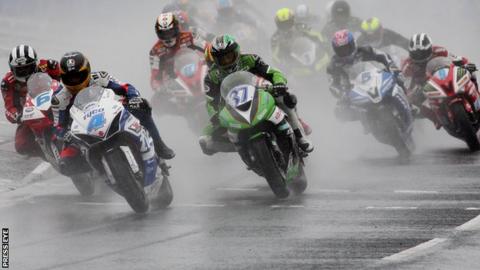 Portrush was at its most boastful: pastel blue skies interrupted only by the loneliest of cotton wool clouds, hot sun making a calm sea glitter. All that guff you read in the tourist brochures.
But that was Friday, and there are no races at the North West 200 on Friday. They take place on Thursday and Saturday.
And this was Saturday: 50 shades of grey as far as the eyes could see, rain coming down like sharpened stair rods, umbrella-wrecking wind howling in off a furious Atlantic. Doused dreams, wet jeans, a town full of frowns.
But that's the weather on Northern Ireland's Causeway Coast: one minute it's tickling you under the chin, daring you not to apply the sunscreen, the next it's snapping on the knuckle dusters and punching you in the face.
If there is a sadder sight than a lycra-clad, mascara-streaked pit girl squelching through a muddy field in eight-inch heels, I have yet to see it. Perhaps the first recorded case of someone contracting trench foot while wearing Jimmy Choos?
So thank the motorcycling gods for Thursday: weather-wise it had nothing on Friday, but at least we got plenty of racing. Big, scary racing that petrified small children. "Can we go now, daddy?" said one as a swarm of bikes approached from Black Hill, making our chests vibrate. "There's too much vroom…"
It didn't just petrify small children; it put the wind up hardened bikers too.
"Watching that bunch of 20 heading into the first corner, it's frightening," says Mike Furlong, over from Northwich in Cheshire.
"They're proper men, hard men with 100% commitment. You don't want to see men doing half a job, you want to see them give it their all - and that's what they give you."
Proper, hard men and the odd proper, hard woman. "Sometimes you get knocked off because they see the ponytail dangling from the back of the helmet," says Maria Costello, the only female in last week's programme. "They try to do something daft to pass you. They can't be beaten by a girl."
If Costello seems like something more mundane, such as a veterinary nurse, it's because she used to be one.
"I used a motorbike to get to work on and one day I got knocked off," says Costello, whom I found wandering anonymously - almost - through the paddock.
"I broke my pelvis, received a compensation cheque and that bought my first race bike. It was a silver lining to a dark cloud." Although not for her poor mum. "She says to me: 'You don't understand - you're my daughter, not my son.'
"I'm the cruellest of daughters with what I've put her through. I know it's probably torture for her and she's had a few of those awful phone calls."
No fan at the North West wants any rider's mum to get an awful phone call. But it's the danger that gets many of them salivating. "Circuit racing is too clinical, too sanitised," says Aussie bike fan Peter Williams, "whereas these guys are on the edge. But I guess they must have fear, otherwise they'd all kill themselves."
Part of Honda mechanic Julian Boland's job is to keep awful phone calls to a minimum.
"There's no room for error at all in road racing, so the responsibility is massive," says Boland, who works closely with English road racing legend John McGuinness. "That's the worst part: the thought that someone might have crashed or injured themselves - or worse - because of a mistake you made.
"Sometimes you're stood there feeling sick, thinking: 'Why do I do this job?' But when you get the wins you think: 'I remember now.'"
The place where the Honda mechanics work is so pristine and clinical it looks more like a laboratory than a garage: this is where boffins build what one calls "rocket ships for roads".
It is down at the bottom of the paddock that you will find the privateers, those local heroes who pack out the back of any given road race grid.
Here I bump into Welshman Paul Owen, soaping down his machine with a bucket and cloth beneath a small, pop-up awning. "It's them and us," says Owen, who is fretting because he did not have room in his van to pack all his tyres.
"I know it might seem a bit unprofessional. People say to me, 'just bang a new set on', but I can't just go out and spend £250 on tyres like the top boys can."
McGuinness, a six-time winner at the North West, knows where Owen is coming from because he was there once. "The first time I came," says McGuinness, "it was just me, the bird and a mattress in a ratty old van. I'd scrimp and save to get here - there was nothing else in my world."
Even further down I come across Scottish rider Bruce Birnie, a wee package of vigour who encapsulates the true privateering spirit. "I might be in the same race as McGuinness," says Birnie, "but when he takes off, I don't see him again.
"I came into Metropole on Thursday, looked up and Alastair Seeley was being interviewed on the big screen: he'd already won. I'm going round thinking: 'This is dangerous… no it's not, it's great… this is dangerous… no it's not, it's great…'
"I do love it, but the reaper is on your back all the way round."
Birnie, a barber by trade, finds it difficult to grasp that the elite boys are not more hands-on with the preparation of their 'rocket ships'. "I did a bungee jump once and I hated it," he says, "because the whole time I was thinking: 'Has this boy fastened me up properly?' Rollercoasters? No chance."
However, Birnie's addiction allied with a relative lack of resources sometimes causes him to take unhinged risks.
"I had a burst radiator on Thursday but I came back to the paddock, squeezed it with a pair of pliers and said, 'let's go again'," he says. "How stupid is that? I should have taken the bike to bits and not gone out but I needed to feed my problem."
As Birnie yanks and tugs at his machine he rabbits away with punters. "The forecasters reckon it'll rain on Saturday," he says, "but I spoke to a fisherman and he said it would be OK." Always there's a fisherman.
Up at the business end of the paddock, the big boys are every bit as accessible. "I was that snotty-nosed kid many years ago," says McGuinness, "waiting around for Joey Dunlop's autograph. Irish hospitality is the best in the world and that's why the North West holds a special place in my heart."
All the way round the Triangle between Portstewart, Portrush and Coleraine, you will find thousands of fans doing the same things: devouring dirty burgers, getting on the gargle, supping up the vroom.
"It might be a hidden secret over in England," says Ian Paisley Jr, MP and a self-confessed petrol head, "but when the sun shines, there'll be more than 120,000 people attending and that Triangle will rake in about £6m.
"To get an idea of how popular road racing is in Northern Ireland, take Lewis Hamilton and combine him with David Beckham, and that's just some sense of how famous Joey Dunlop was and is. But there's no real showbiz about road racers; it's the bravery of those people that attracts so many people.
"You have so much respect because they're doing something that in an instant could take their lives, and has taken many lives. You just seem so unworthy."
Stand next to the Magherabuoy chicane and you get a good look at the riders before they take off towards Metropole, struggling to hold down the front end. William Dunlop, Joey's nephew, pulls off the road and is helped off his bike and into an ambulance. Five minutes later he is off again, his popped shoulder having been popped back in again.
There are of course those who are not fans of 'proper, hard men and women doing proper, hard things'. And you have to wonder whether, if the North West 200 did not already exist, it would be impossible nowadays to invent it. "Right, councillor, here's the plan…"
"I sometimes ask myself that question," says Owen. "The answer is 'probably not'. There's no way of making it safe.
"The organisers tie hay bales to lamp posts and say: 'At least if someone hits that, that will protect them.' But as long as there is someone willing to put the show on, lads willing to race and fans willing to pay to see it, it's always going to happen."
"We're designed as human beings to see a challenge and to want to conquer it," says Paisley, "whether it's climbing a mountain or riding a motorcycle. It's what separates us from the other species. But there are always people who want to stop it, especially if there's been a bad injury or a tragedy.
"But they don't understand it and they shouldn't be listened to. We need to listen to the people who participate in it, their families and associates."
Thursday is a good day for Northern Irish road racing, with three wins for home riders, including a double for Alastair Seeley and one for Jeremy McWilliams, still separating himself from the other species at the grand old age of 49.
But after a glorious rest day, Saturday is a bad day for Northern Irish road racing. We wake up to the news there has been an oil spill on the approach to Metropole. And that the fisherman was wrong. "As long as the sun shines," everyone told me, "you'll have a great week." But this was just depressing.
But more than depressed, I think everyone just feels a bit daft: there we all were soaking up the rays on Friday when nobody was in action and here we all are huddling for cover when we should be watching proper, hard racing.
The Supersport race at least gets under way and to be grid-side next to all that throbbing, vrooming metal speeds up the ticker and makes your extremities tingle. Off goes the light, away they swarm and they are quickly consumed by spray.
"Imagine trying to pass an articulated lorry without windscreen wipers," says BBC commentator Larry Carter, "and you'll get an idea what it's like."
Sure enough, three riders come off at Primrose Corner while another comes a cropper at Church Corner, causing the race to be red flagged with only two laps completed. And that's your lot.
"The riders don't want to go out," says one, "but they don't want to admit that they don't want to go out." No-one blames them.
The minutes march past. Bikes are packed away, fans are hosed from the grandstands, the pit girl changes into something more suitable. Like a frogman's suit. Meanwhile, Bruce Birnie looks like he might cry. His problem still exists.