Isle of Man TT: John McGuinness ready for Superbike races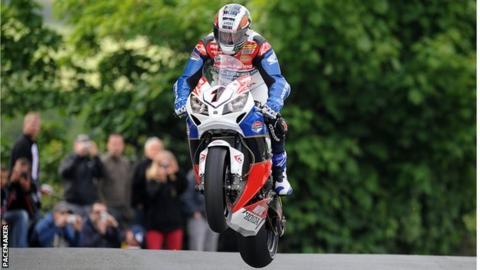 TT star John McGuinness says the Isle of Man event has an extra significance this year following the abandonment of Saturday's North West 200.
The Morecambe racer will be looking to add to his tally of 19 wins as part of the three-man Honda TT Legends team.
The 41-year-old said: "We were all gutted not to get out on the Superbikes at the North West, so the TT is all the more important this year".
McGuinness is joined in the team by Michael Dunlop and Michael Rutter.
Both Dunlop, 24, and Rutter, 41, have won three TT wins each - and the trio will ride in both the Superbike and Senior TT races.
McGuinness continued: "As always, I'll be a bit nervous heading in to the first practice sessions this weekend, but as soon as I get on the bike and head out for the first time it will feel like home.
"There's no denying that the young guns are nipping at my heels, but I'll be fighting as hard as any of them. I've said it before, but when the sun is out there is no better place to be than the Isle of Man TT."
Northern Ireland's Dunlop won Saturday's only race at the NW200, which was called off because of heavy rain.
He said: "The North West was a mixed bag for me because I did get a win on the 600, but the weather was horrendous and it was a shame we didn't get to go out on the big bikes.
"My machine was going well in practice and I would have been on pole for the race, so I'm looking forward to seeing what we can do at the TT. It's my favourite road racing circuit."
Rutter who has now recovered from from a broken leg added: "After the wash-out of the North West I can't wait to get back to the rock and have a go on the Superbikes.
"My team-mates just happen to be two of my biggest rivals, but I'm sure that will make for some good racing."