Yoshinari Matsushita: Tributes paid to Japanese TT star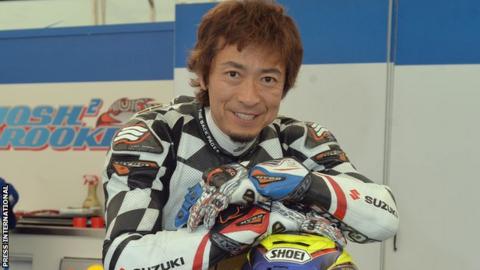 Tributes have been paid to the Japanese racer Yoshinari Matsushita, who died in Monday's qualification for the Isle of Man TT races.
The 43-year-old Tyco Suzuki rider died in an accident at Ballacrye on the 37.75 mile Mountain Course.
Manx TT star Conor Cummins said: "It is very sad. He was a good rider and a nice bloke - he was always smiling and was very popular around the paddock."
Matsushita first competed in the iconic Manx event in 2009.
His TT entry for the Northern Ireland-based Tyco Suzuki team was only announced earlier on Monday when it was revealed that he would be teaming up with Guy Martin and Josh Brookes in the Supersport 600 event.
Brookes, 29, who is making his TT debut this year, said: "My thoughts are with his family and the people closest to him.
"I'd only just met him and to be in the same team is obviously very close to home. It draws a very strong link to what possibly and potentially can happen but I just need to stay focussed on what I need to do.
"We all know what we are getting involved in here and there are going to be a lot of people left behind who are deeply effected. We are all thinking about them."
Cummins, who suffered a high-speed crash at the TT in 2010, continued: "He was a very accomplished rider and to come all the way from Japan to compete around here is a massive commitment - it is a massive commitment coming from the Isle of Man.
"He was a good steady rider and it is just very unfortunate. My thoughts are with his family, crew and friends."
Matsushita is the 21st rider to die at the races since 2000. The session was immediately red-flagged following the accident.
Clerk of the course Gary Thompson said: "Yoshi was a really popular competitor who had a large number of friends in the paddock.
"He was a genuine and friendly character who always had time for everyone. He will be sorely missed."
The coroners have been informed and an investigation into the circumstances of the accident is under way.
The Japanese rider was a regular competitor in the Superstock and Superbike classes and finished fifth in the 2011 TT Zero for electric bikes.
Earlier on Monday, Matsushita had spoken of his delight at being given the chance to compete for the Tyco Suzuki team.
"As a member of this great team for the TT, I draw the full power to be able to use their experience to fight this monster course. I did not think a miracle like this would ever happen," Matsushita had said.
Tyco Suzuki manager Phil Neill said the Northern Ireland-based team were "devastated" by Matsushita's death.
"We were very much looking forward to working with Yoshinari during TT2013 and pass on our deepest condolences to his family and fellow team members," Neill added.