Isle of Man TT: Timed laps prevented by rain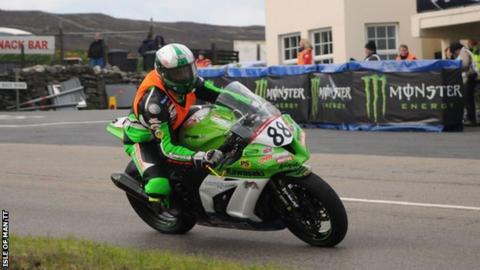 TT riders were unable to record timed laps for a third consecutive practice session on Wednesday because of showers and wet patches on the Mountain Course.
The fourth scheduled session for the Isle of Man event was due to get away at 18:20 BST but heavy downpours led to a one-hour delay.
Clerk of Course, Gary Thompson, said he had "little option but to declare the session untimed".
Many solo and sidecar riders managed two laps of the 37.75-mile course.
Australian newcomer and Ivan Lintin got the session under way shortly after 19:15 BST.
They were followed by many of the leading riders, including John McGuinness, Guy Martin and Conor Cummins, who had all switched from their Superbikes to either Superstock or Supersport machines because of the road conditions.
With showers increasing and from Ballacraine onwards now seeing wet roads, yellow flags were prominent throughout the session.
Three-time TT winner Cameron Donald tweeted: "Not much achieved tonight but one fast run down Bray Hill in the dry was worth the wet ride home."
TT rider Maria Costello tweeted: "Bit of a soggy lap tonight but at least that's one lap done on the Triumph. Fingers crossed the weather is better tomorrow!"
Most sidecar crews went out at 20:00 BST with the exception of last year's double-TT winners Dave Molyneux and Patrick Farrance.
Weather conditions are expected to improve on Thursday with qualifying starting at 18:20 BST.
Solo riders will be hoping to get time on their Superbikes before Saturday's opening race.