Derek Redmond switches from Olympics to Isle of Man TT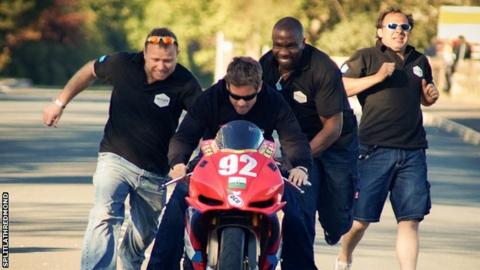 Think of Derek Redmond and your mind goes back to Barcelona's Olympic Stadium, as a
Twenty years on and Redmond's father Jim can't bear to watch his son's newest pursuit. Derek is now co-owner of a motorcycle race team and is taking on the formidable Isle of Man TT.
"The night before my first race, my dad called me up and tried to talk me out of it," Redmond tells BBC Sport. "He doesn't understand it and he's never come to watch me race bikes.
"He was my number one fan and supporter from an athletics point of view and still is, and we get on very well. But he is not keen on bike racing."
Redmond is a former British 400m record holder and won gold as part of the GB 4x400m team at the 1991 World Championships, although it was his courage at the 1992 Olympics, when he tearfully finished his race in Barcelona with the help of his father after suffering a hamstring injury, that may be the defining memory of his career for many.
The former athlete had never ridden a motorbike until 2006, but now he is co-owner of the Splitlath Redmond racing team and regularly takes part in track days and club races himself - the 47-year-old's weekends and evenings are now lost to lap times and practice sessions.
After a spell running his own endurance team, Redmond joined forces with friend John Dimbylow to set up the motorcyle race team at the start of 2012. Now Redmond is getting his first experience of the TT, which has involved watching his riders hurtle down Bray Hill at 180mph.
"You couldn't print my first reaction!" he said. "It's unbelievable. I've been involved in sport for 40-odd years and this is the best sporting event in the world - and that includes the Olympics.
"I was competing at the Olympics and have been to a few Games since, including London, and they were fantastic. But it's not the TT.
"Every rider deserves an MBE for finishing this circuit, I love it. If I was quick enough and brave enough I would do it myself but I'm too long in the tooth now."
Owning a racing team may sound glamorous to the uninitiated but Redmond admits his latest obsession is costly. He won't say how much of his own money has gone on the team, but admits: "I've put my 'hurt money' in.
"That's a different amount to every person, but it's the money you put in, and if it all goes wrong it would hurt to lose it. It's expensive in time as well. There are a lot of sacrifices that have to be made and it plays havoc with your family life.
"There's a lot more to it than writing out a cheque for a million pounds or whatever. Your family have to live out of a van at times in confined spaces."
This is the team's third crack at the TT and Redmond's two riders for 2013 are experienced American Mark Miller and the first Chinese rider in the event's 106-year history, Wai On Cheung.
in practice week, Redmond is hoping for a finish for the debutant, while predicting a top-15 finish for Miller.
Finishing the Superbike and Superstock races is not a foregone conclusion, with the dangers of the TT back in focus after Japan's
"Death is in the back of everyone's mind but you can't really think about it. I know the riders don't," Redmond said.
"All you can do is crack on with it and treat the possibility of death as an unwritten rule. Everyone knows the dangers of it and that is part of the excitement.
"But when someone dies, like the other night, everyone feels like they have lost a member of the family. It can and does happen. I've been club racing when someone has been killed in an accident and the show must go on.
"There were no riders killed last year so hopefully we won't have any more this year."
Redmond believes the level of commitment needed to conquer the mountain course is equal to that required to win Olympic gold. Yet he says he would rather win the TT than an Olympic gold.
"I would like to have both but to have a TT win would be something else. If you'd asked me 20 years ago I would have said Olympic gold. Now I would say the TT.
"They are as rare as each other. A TT win is the equivalent in motorsport of an Olympic gold in my eyes. Training for the 400m day-in, day-out was hard. But to win a TT is life threatening."
Isle of Man TT race programme
Saturday, 1 June
11.00 BST - Superbike (six laps)
14.00 - Sidecar 1 (three laps)
Monday, 3 June
10.45 - Supersport race 1 (four laps)
14.00 - Superstock (four laps)
Wednesday, 5 June
10.45 - TT Zero (one lap)
12.00 - Supersport race 2 (four laps)
14.15 - Sidecar 2 (three laps)
Friday, 7 June
10.15 - Lightweight (three laps)
13.00 - Senior TT (six laps)