One-armed rider Chris Mitchell makes TT course history
Last updated on .From the section Motorsport
Manx motorcyclist Chris Mitchell has become the first one-armed competitor to complete a race around the island's world famous TT course.
He rode a specially adapted Suzuki machine to 11th place out of 20 riders in Wednesday's Manx Grand Prix Newcomer's B race, averaging 99.134mph.
"It's up there with having my first daughter," said the 42-year-old. "It's a life-time ambition come true."
Mitchell lost the use of his arm in a motorcycle accident in 2001.
"The Manx Grand Prix is the best thing I can imagine doing on my bike - it is why I wanted to race in the first place," he said.
"It's not sunk in yet. It's been a long road but this is amazing.
"All I wanted was a finish - I made a couple of mistakes on the last lap. My mind concentration began to wander but I have just completed 150 miles on the most demanding course in the world, so that's pretty impressive I think."
Mitchell had entered the event in 2012 but failed to complete a lap because of mechanical issues.
Team manager Julian Wood said: "I am absolutely delighted for him. It's been a tough year. We didn't even get a full lap last time.
"This year he is fitter and he just puts so much effort in. He has just made a big slice of history on the most famous race course in the world."
His brother Simon said, who is heavily involved in the team, said: "I am so, so proud. I can't believe he has done it. It is such a marvellous achievement.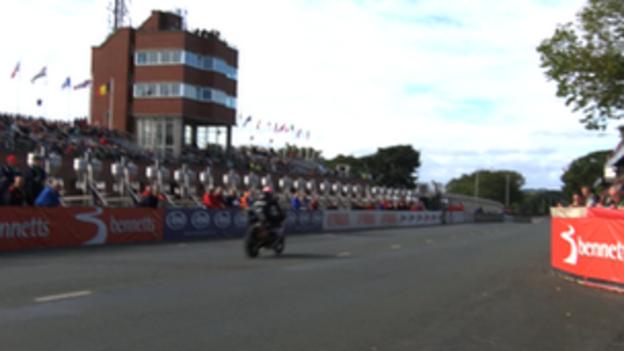 "It has taken years of hard work and it he will inspire so many people with what he has done."
His daughter Ellie added: "I was so nervous - I was shaking. I could not be prouder of him."
Mitchell was racing a specially adapted Suzuki 650cc machine with the clutch moved to the right hand side of the controls. He developed the bike himself with help from friends and local engineers.
The Newcomer's race B was won by Callum Collister who finished 40 seconds ahead of Joe Faragher while James Neesom was third.
Meanwhile, Christopher Dixon won the concurrently run Newcomer's race A ahead of Connor Behan and Marc Livesey.
Ben Rea claimed the Newcomer's race C by over a minute-and-a-half from Richard Wilson, with Derek Wilson completing the podium.
The Manx Grand Prix is celebrating its 90th anniversary this year.