Rallee Classicagh in British Historic Rally Championship return
Last updated on .From the section Motorsport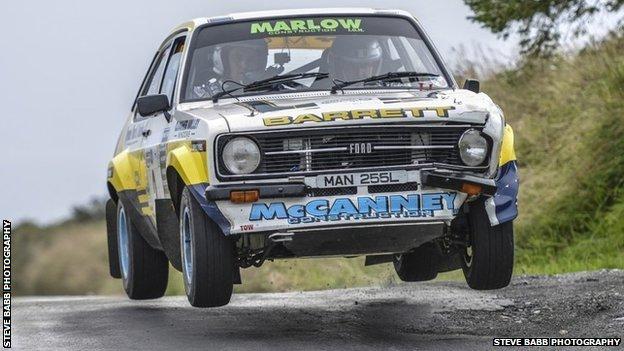 The Isle of Man's Rallee Classicagh, which celebrated its 50th anniversary last week, has regained its British Historic Rally Championship status.
The event, which is part of the annual Rally Isle of Man, was dropped from the championship in 2010 with organisers blaming the "economic downturn".
Rally Isle of Man chairman John Gill said he was "thrilled at the decision".
The 2014 British Historic Rally Championship will include eight events held across the British Isles.
The Rallee Classicagh was won this year by Ulsterman Ryan Barrett and Manx co-driver Paul McCann and next year's three Rally Isle of Man events will take place from 11-13 September.
British Historic Rally Championship secretary John Hunt said: "The team are delighted that so many of our members took part in the Rallee Classicagh and particularly that they demonstrated the high level of competitiveness that resulted in the outright win and other excellent overall and class results.
"We look forward to 2014 when it will again be part of the championship.
"At the Rallee Classicagh, crews can look forward to over 100 stage miles on the island that lives and breathes motorsport."
Gill added: "We want to build Rally Isle of Man as one of the prestige events in historic rallying.
"The quality of the field assembled last weekend was hugely impressive and it's clear that the competitors hold this event in the very highest regard. Add to that the way that the historic cars and crews have become the crowd-favourites in recent years and it is an all-round win-win.
"When we were approached by championship organisers, it was a very straightforward decision. We simply can't wait to see the line-up of crews next year, and are already looking forward to welcoming them to this classic event."