Rally Isle of Man regains British Rally Championship status
Last updated on .From the section Motorsport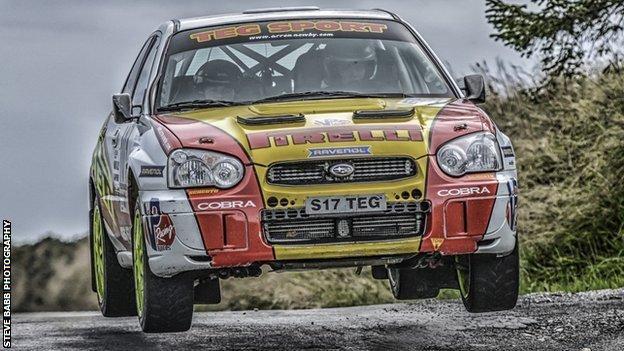 Rally Isle of Man, which celebrated its 50th anniversary this month, has been reinstated as a round of the MSA British Rally Championship for 2014.
The 200-mile rally will provide the penultimate round of the seven-event British championship next September.
The Manx event was dropped from the championship in 2010, with organisers blaming the "economic downturn".
The rally has since been rejuvenated under a new management team, who said they are "thrilled" by the decision.
Rally Isle of Man's Chris Boyd commented: "When the new team came on board to rebuild the rally it was a case of establishing it first.
"Then if people come to us, so be it - and that's exactly what happened. The championship came to us because their competitors have told them they want to come and compete on the Isle of Man's famous stages.
"To re-join Britain's pinnacle rally series is fantastic."
This season's title hunt includes competitors from Norway, Finland and Sweden, as well as a strong UK and Irish assault.
Mark Taylor, managing director of UK Rally, said: "Rally Isle of Man has never really fallen off our radar and now with a rejuvenated team at the helm, it has all the ingredients to become an epic event again.
"New initiatives have reduced the costs and provided direct sailings from Belfast, whilst the Douglas promenade ceremonial start and spectator stage have created something new, enhancing the classic Manx stages that competitors love so much."
Rally Isle of Man chairman John Gill added: "We've obviously made quite a lot of changes since they last appeared here, and combining the committed driving and close competition of the BRC and challenge with the Rallee Classicagh and Manx International rallies should ensure that we have something for every rally fan in 2014."
Arron Newby from Carnforth and co-driver Rob Fagg won this year's event earlier this month. The 18-year-old's victory made him the
Last week it was also announced that another Manx rally - Rally Isle of Man 2014 - will take place from 11-13 September 2014.