Dario Franchitti: Indycar champion forced to retire on medical advice
Last updated on .From the section Motorsport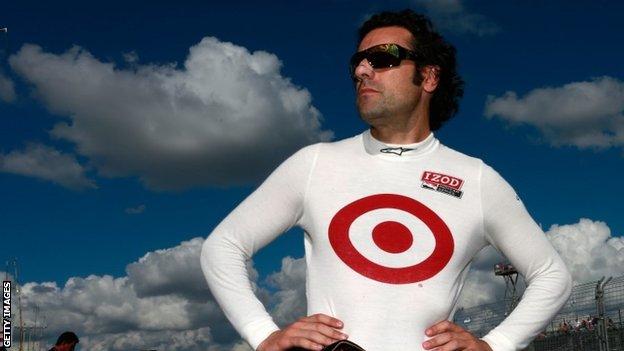 Four-time IndyCar champion Dario Franchitti has retired from racing on medical advice following injuries he sustained in a recent high-speed crash.
The 40-year-old Scot suffered multiple fractures after hitting the track wall at last month's Houston Grand Prix.
Franchitti, who won the Indy 500 three times, had to have two ankle surgeries.
But, six weeks on after the crash, he said: "Based upon the expert advice of the doctors, it is their best medical opinion that I must stop racing."
In a statement on his website, he added: "They have made it very clear that the risks involved in further racing are too great and could be detrimental to my long-term well-being.
"Based on this medical advice, I have no choice but to stop."
Franchitti won 31 IndyCar races in a 265-race career, which puts him tied for eighth in the all-time list.
He also won three consecutive titles from 2009 to 2011 and is the most successful British driver in US open-wheel racing history.
In 2007, he became the first driver to consecutively win the 12 Hours of Sebring, the Indy 500, an open-wheel title and the Rolex 24 at Daytona.
Franchitti said: "I was looking forward to the 2014 season with Chip Ganassi Racing with a goal of winning a fourth Indianapolis 500 and a fifth IndyCar Series championship.
"Hopefully in time, I'll be able to continue in some off-track capacity with the IndyCar Series. I love open-wheel racing and I want to see it succeed."
Franchitti's team boss Chip Ganassi said: "Dario Franchitti has done so much for Chip Ganassi Racing, so it will be very disappointing to not see him in our cars next season.
"But simply put, Dario is a motorsports legend and will be sorely missed on the race track by everyone in the paddock and in the stands.
"His contributions to the sport of motor racing are too many to list, but I can tell you that they go way beyond what he has done on the track.''
Britain's leading Formula 1 drivers paid tribute to Franchitti.
Force India's Paul Di Resta, Franchitti's cousin, said: "It's all about getting him back healthy and being there for him, and that is all we (the family) are there to do.
"I can't speak highly enough of his achievements. Tremendously proud, successful, a legend. What else is there to say? More so being part of the family.
"That's the thing that will keep Dario going, the fact he can come racing with the likes of me and Marino (Franchitti, younger brother).
"He took some knocks, dusted himself off, and to sit there at 40 with four titles and three Indy 500s, I would like to be in that position - only 13 years to go!"
McLaren's Jenson Button added: "Dario was one of the drivers I always looked up to as a youngster. He's a proper legend of the sport.
"I remember being at the NEC in Birmingham for an Autosport show, and when I was really young I went on to the arcade machines and tried to get the best time at the circuits.
"I thought I was really good, and I was really good to be to fair. This one time I'd finished, and then Dario jumped on and beat my time first time up, and I just thought 'Wow! He's superhuman!'"
Mercedes' Lewis Hamilton added: "He comes across as being very open, very straightforward, and what he's achieved in the sport has been great.
"It's a real shame because he still had some time to go in the sport, so I'm really sad to hear he's had to retire."