Elfyn Evans braced for tough World Rally Championship debut
Last updated on .From the section Wales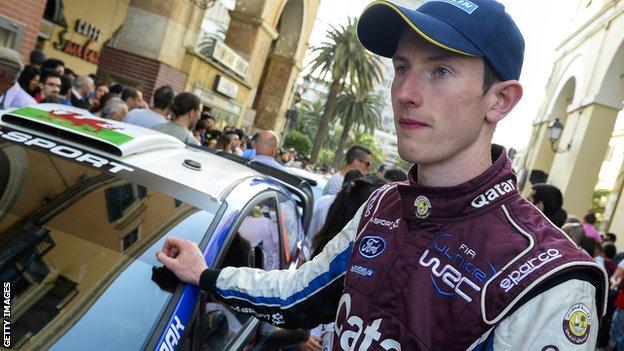 Welshman Elfyn Evans acknowledges his World Rally Championship debut in Monte Carlo will be a tough challenge.
The 2014 FIA World Rally Championship begins with the Rallye Monte Carlo on 19 January.
"It's likely to be a very difficult start to the year," Evans said.
"Monte Carlo is renowned for changeable conditions that can change even within the space of a quarter of half an hour.
"It makes things very, very difficult in terms of judging the level of speed you can carry and the grip levels available.
"By all means it's going to be a great challenge but we hope we can be sensible and make it to the end of the rally and gain as much experience as we can."
Evans secured the FIA World Rally Championship Academy title in 2012 and joined the WRC-2 championship last year as part of his prize.
He claimed his maiden WRC-2 win with victory at the 2013 Wales Rally GB and admits he was surprised with his elevation to the World Rally Championship.
"It did come as a bit of a surprise," Evans told BBC Wales.
"We were hopeful that we would be competing in the World Championship at some level this coming year having had a successful development year last year.
"But it was very nice of M-Sport to trust me with a role in the World Rally team and we hope we can make the most of it.
"It will be a fair step up. I think the level of competition will step up now I'm against the best drivers in the world.
"There will be a step up in the car as well although driving characteristics will be similar there will be changes and it will take time to get used to.
"But hopefully with time that will come.
"The most important part will be to gain experience of the event, especially the events we haven't been to before. That will be half the calendar.
"We'll be up against drivers who may have done the rallies up to six or seven times and therefore the experience they will have will give them a great advantage.
"It's important to build that experience up for any success in future years."
Elfyn's father, former British Rally champion Gwyndaf Evans, will be part of his back-up team for the forthcoming season.
Evans senior and 2003 World Rally Champion co-driver Phil Mills have been entrusted with preparing pacenotes ahead of the rally stages.
"It's a fairly demanding job I've given them and one that come with great responsibility," Evans added.
"But I think I've got a good pairing I can trust to do a great job for us.
"He's [Gwyndaf Evans] been involved in the sport for many, many years and still has great advice he can pass down
"Any advice I can take off him will be gratefully received and used."