Jacques Villeneuve joins Scottish team for World Rallycross
Last updated on .From the section Motorsport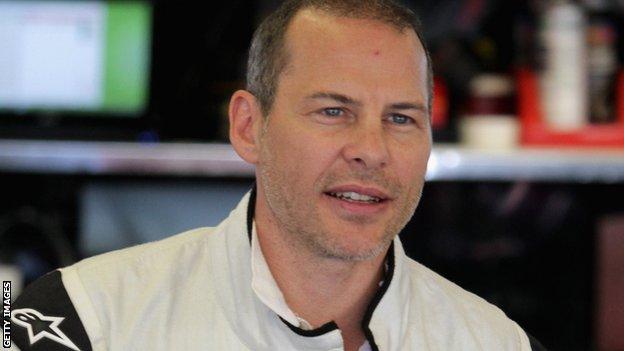 Former Formula 1 world champion Jacques Villeneuve will drive for Scottish team Albatec Racing in the upcoming World Rallycross Championship.
The Canadian, who won the 1997 drivers' championship, will feature in the inaugural series of 12 rounds.
The first of the two-day events takes place in Portugal in early May.
At Albatec's Dumfries base, Villeneuve said: "This is a place of champions. Allan McNish, David Coulthard, there's a good background here."
Albatec Racing started in rallycross last year, taking part in the British and European Championships.
Villeneuve, 42, is one of only three drivers to have been champion in F1, Indycar and Indy 500 and has also competed in LeMans 24 and NASCAR.
The 2014 World Rallycross series will take place predominantly in Europe including rounds in Britain, Norway, Finland, Sweden, Belgium, France, Germany, Italy in Turkey.
There will also be races in Canada, Argentina and Istanbul, Turkey.
Villeneuve told BBC Scotland: "I've always loved a challenge, all through my racing career. I've won in IndyCar, I've won in F1 and there has always been a year of learning and then the second year, go for it.
"Now rallycross has become a World Championship and that made it exciting and professional.
"The racing is exciting. The races are short, six laps, and there are a lot of them. It's very modern.
"It's tough, the drivers lean on each other. It's not for the faint of heart. That got me going and hopefully it's something I can win in the future.
"Albatec are putting everything in motion to step up from the European Championship to the World Championship and I guess all the teams will be doing that at some point or the other, but it's only the beginning.
"It will keep getting bigger."