Ryan Farquhar set to race at this year's North West 200
Last updated on .From the section Motorsport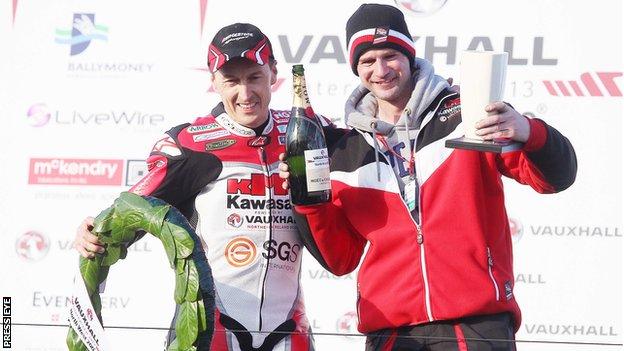 Ryan Farquhar has confirmed he will be racing at the North West 200 this year.
The 38-year-old is returning to the roads after a brief retirement and leads a full complement of KMR Kawasaki riders in the Supertwin races at the opening International on 17 May.
The Dungannon rider will be joined by Keith Amor, last year's Supertwin winner Jeremy McWilliams and rookie Connor Behan in a strong KMR team.
Farquhar's latest signing Danny Webb may also be brought to Portrush.
On their first return to an Irish national road race, Farquhar and his former rival Amor will compete in the Tandragee 100 meeting two weeks prior to the North West.
Grand Prix legend McWilliams joins the pair in a vastly experienced line-up that will hope to emulate the KMR team's 2012 feat of taking all three places on the Supertwin race podium.
"We are developing the bikes and they will definitely be faster this year," stated Farquhar.
"They will have to be, because the Supertwins races will be very, very competitive and I won't be surprised if we are coming down into Metropole four or five abreast."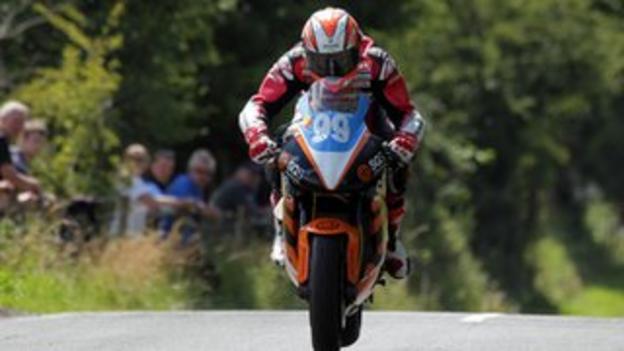 Farquhar, a four-time North West winner, claims he is not thinking about winning the race himself and believes McWilliams, who turns 50 in April, will be the KMR rider most likely to succeed in 2014.
"Jeremy will be our strongest rider and I wouldn't like to bet my house against him.
"He won last year and he definitely didn't have the fastest bike in the field so he proved he can race the North West."
Former 250cc Grand Prix winner McWilliams admits there will be more pressure on him this year.
"I would be happy to make the podium three years running but I'd really love to pick up another win.
"I suppose I will be the target man now in the way Ryan used to be and that brings its own pressure.
"Nothing else really counts after a North West win except doing it again, it is just so special."
Negotiations are ongoing with race organisers to bring Farquhar's new signing, former Grand Prix Moto 3 rider Danny Webb, to the event.
All of the KMR bikes will be run in the orange and black livery of the team's new sponsor, SGS International.
Event Director Mervyn Whyte said: "To have the KMR Kawasaki squad, complete with Ryan and Keith back out of retirement, at the North West will be great for the race and for all of their fans."
"Ryan has pioneered the Supertwins class and there's no doubt his immaculately prepared machines will be at the front of the pack in the races on Thursday evening and Saturday."